Children of Westminster Community Granted Summer Program Preference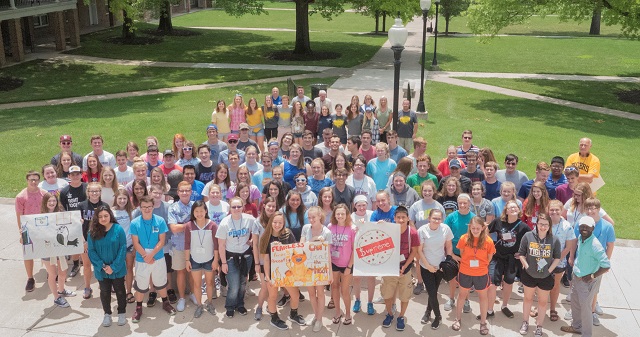 Westminster College is excited to announce that younger high school-aged children of Westminster alumni, faculty, and staff will receive application-process preference for the 2019 Leadership in Practice program. The action-packed event will take place June 23 to June 26 on the Westminster College campus.
Applications for Missouri high school freshmen and sophomores are now being accepted for the well-established program, which is run by the Missouri Chamber Foundation. The program costs $250, which includes all activities, room fees, and meals.
Celebrating its 20th year overall and sixth year on the Westminster campus, the Leadership in Practice program serves up to 250 young high school students and focuses on helping young people develop strong leadership, entrepreneurship, and other critical professional skills. Activities include a Model United Nations and special presentations by a number of professionals in a variety of fields. The program includes a variety of hands-on activities that take place both inside and outside, plus a tour of the National Churchill Museum.
The Leadership in Practice program is sponsored in part by The Jenny and Warren Erdman Charitable Fund. Warren Erdman, '81 ΦΔΘ, has served on the Executive Board of the Leadership in Practice program for a number of years.
"The program has just gotten better and better," says Brain Crouse, Missouri Chamber Foundation Vice President of Education. "Westminster opens its arms to us and helps us in so many ways."
Crouse says that participants this year can expect lots of fun, with activities running until late at night. High schoolers are assigned to groups of 10 to 12 students who are overseen by peer mentors and educational, business, and civic professionals. Students sleep in the Quad and are assigned junior and senior counselors in each suite. Junior counselors are high school participants who return to the program to help out.
"We're overwhelmed by the number of junior counselors who want to come back to the event this year," Crouse says in describing the excitement participants experienced last year.
He adds that one particular highlight of last year's program was Missouri State Highway Patrol Col. Sandra Karsten's presentation, "Leadership Under Fire."
"The kids asked how she led a predominantly male organization, as a woman," Crouse explains. "She was spot-on in her comments, citing professional decorum, acceptance of ideas, and persistence."
Crouse adds that he hopes Karsten, who is now Division Director of the Missouri State Highway Patrol, will return once again this year as a speaker.
"We are really excited about how this year's program is coming together," Crouse says.
For more information on Leadership in Practice, to apply to attend the program, or to apply to be a counselor or junior counselor, go to to the Misssouri Chamber Foundation site here. You also can reach Crouse directly at bcrouse@mochamber.com.