Young Alumna Gives Back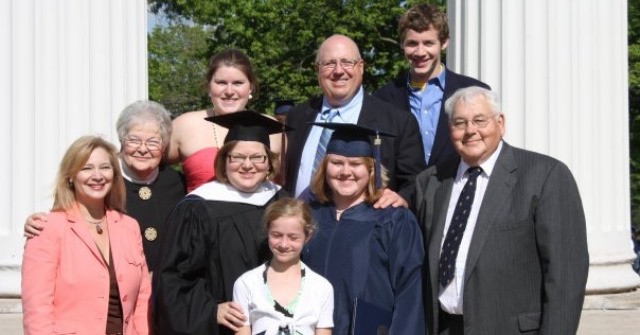 Above photo, Katherine Humphreys '09 and the Schultz-Humphreys-Beggs Westminster legacy family. Top row: Mary Jane Schultz (grandmother), Sarah Humphreys (sister) '13, Steve Humphreys (dad) '83, and Henry Beggs (cousin) '15. Bottom row: Margaret Schultz Beggs (aunt) '85 , Betsy Schultz Humphreys (mom) '83, Katherine Humphreys '09, and John Edward Schultz (grandfather) '58.
Katherine Humphreys '09 is one of the youngest alumni in Westminster College history to become a President's Club member.
"I knew that I wanted to give back to Westminster," says Humphreys about her early giving. "And I knew that if I started to give to Westminster early at a small level and increase it as I am able to, then when I am older it will not be a hardship to give back to alma mater."
While at Westminster, Katherine majored in Museum Management. She was also very involved on campus. Some organizations she took part in include Kappa Kappa Gamma, Student Foundation, Student Ambassadors, and the Blue Blazers Investment Committee.
Currently a trading client contact representative at Wells Fargo Advisors, her current job entails supporting advisors in the field by helping them execute trades and service with clients, as well as work with self-directed clients on brokerage accounts.
"Westminster helped me foster my connections to get my job, as well as taught me how to speak to employers and customers about any subject," says Humphreys.
Her successful career after leaving Westminster has allowed her to accomplish one of her greatest achievements thus far – buying a house at the age of 25.
Katherine's favorite part about Westminster is being a part of her family's rich history with the college. So far eight family members have attended the college including her grandfather, John Schultz, who was long-time chemistry professor, Associate Dean, and Marshal of the College. Humphreys' mother Betsy Schultz Humphreys was the first woman accepted at Westminster when the College went co-ed.