Westminster's Suravi Shrestha 1 of 12 to Win Fellowship at National Alpha Chi Conference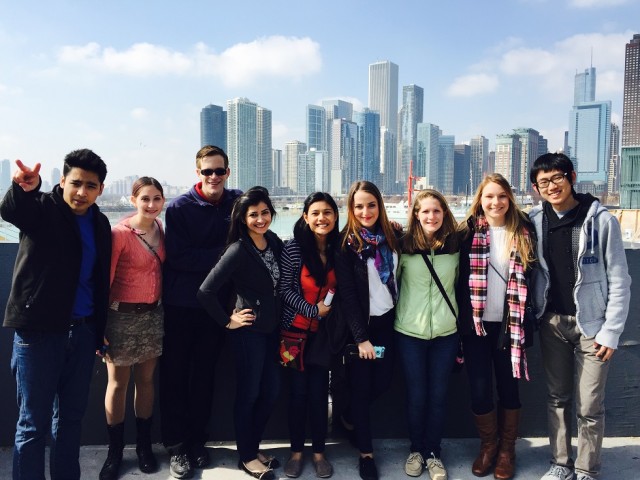 Nine Westminster College students recently attended the 2015 national Alpha Chi convention in Chicago (photo above), joining nearly 500 students from chapters across the nation.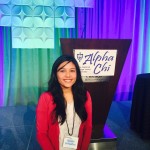 A Westminster senior from Lalitpur, Nepal, Suravi Shreshtha (photo, right) won a $2,500 H.Y. Benedict fellowship for graduate study at the convention, thanks to her award-winning paper, "Correlating Ecofeminism and Hinduism in India." She was one of only 12 to win this year's fellowship.
Shreshtha is the fifth Westminster student to win a Benedict Fellowship and the second to win within the last three years.  She is also the tenth Westminster student to win a national Alpha Chi scholarship/fellowship and the fifth in the last five years. The Benedict Fellowship honors the Alpha Chi society's first president, Dr. Harry Benedict.
Students who gave presentations at the national convention were Lejla Dervisevic, a senior from Cazin, Bosnia and Herzegovina; Laura Kelly, a senior from Lee's Summit, MO; Jamie Striler, a junior from Kirkwood, MO; and John York, a senior from Lee's Summit, MO.
Also at the 2015 conference, Westminster's Dr. David Jones was elected the national Alpha Chi President for a four-year term. Dr. Jones serves as Associate Dean of Faculty, Professor of Psychology, and Alpha Chi advisor at Westminster.
Alpha Chi is a national college honor society that admits students from all academic disciplines. Membership is limited to the top 10 percent of an institution's juniors, seniors and graduate students.  Some 300 chapters, located in almost every state and in Puerto Rico, induct more than 12,000 members manually.
The Missouri Delta Chapter of Alpha Chi at Westminster College has repeatedly been recognized as one of the top chapters in the nation.
Below, Westminster Alpha Chi students have fun at the Bean in Chicago.