New Fulton State Hospital Partnership Creates Doctoral-Level Internship Experience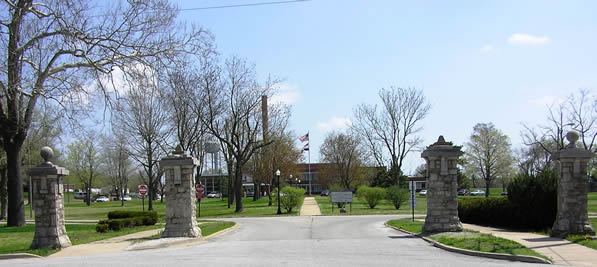 Westminster College and Fulton State Hospital have announced a new internship partnership for psychology majors. Through the new partnership, undergraduate students at Westminster have a unique opportunity for a yearlong, practical experience at the Fulton State Hospital. The hospital (photo, above) is located a five-minute drive from Westminster's campus in Fulton.
"Most undergraduates don't typically get this kind of experience," says Ted Jaeger, chair of the Westminster Department of Psychology. "This internship offers the equivalent of the experiences a PhD student will get."
According to Jaeger, few undergraduate colleges and universities can offer that caliber of experience, but Westminster's close proximity to, and relationship with, Fulton State Hospital has created a unique opportunity for students.
Fulton State Hospital frequently hosts graduate students from across the United States who are finishing doctoral degrees, particularly in areas of clinical and forensic psychology.
"Part of the Fulton State Hospital's mission is to train future mental health professionals," says Marc Maddox, Fulton State Hospital Psychology Director. "Through this internship, students can see firsthand what psychologists do within a forensic mental health facility."
While Westminster students have benefitted from internships at FSH before, the new partnership creates a more systematic approach to training undergraduate students interested in the field of mental health.
The new internship is selective and covers one academic year. Applicants must be at least 21 years old and have achieved senior status.
As part of the program, a staff member from Fulton State Hospital will serve as an adjunct faculty member at Westminster, help with the intern selection process, and teach a course (such as Forensic Psychology) on campus each semester.
A steering committee consisting of a representative from Fulton State Hospital, the chair of the Westminster Psychology Department, and a second member of the Psychology Department will provide oversight of the program and select the students who will be eligible to participate.
Up to two interns may be selected each year, and they will work closely with the FSH/faculty sponsor, working 130 hours at FSH, including a minimum of 25 hours in contact with a psychologist who holds a graduate degree. Students will earn 3 hours of academic credit per semester of work.
Westminster and FSH will launch a pilot of the new internship program during the spring 2015 semester. Student Melissa Buehner has been chosen as the inaugural intern for the experience.
Interns can expect to be placed in Guhleman Forensic Center or Biggs Forensic Center, according to Maddox. "They will be assigned to a particular program," he says. "They may sit in on a treatment meeting or group therapy, or they may sit in on an individual therapy session."
Maddox says that interns may be called up on to review records, glean data, and mock up progress reports. The internship should be mutually beneficial for students and the FSH.
"We hope the students will make a contribution as they assist the psychologist they will work with," he says. "If they do well, they will receive a nice letter of recommendation for graduate school from a licensed psychologist."
Fulton State Hospital, authorized in 1847 and opened in 1851, is the oldest public mental health facility west of the Mississippi River. The hospital is certified by the Centers for Medicare and Medicaid Services (CMS), and has been accredited by The Joint Commission (TJC) since 1984.