The Hometown Doctor: Misty Todd '13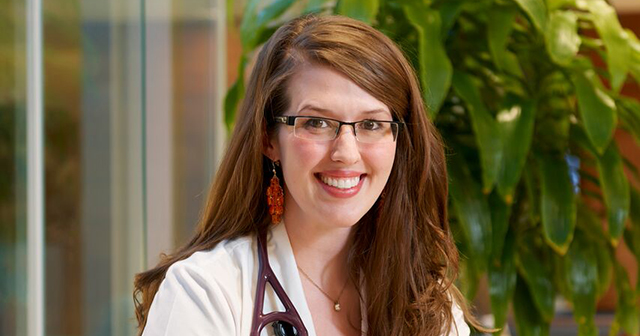 From small town to medical school and back again, Misty Todd '13 is eager to bring all her training back to the community that raised her.
There are countless stories of small-town dreamers who leave the places they grew up to chase their ambitions and live in the big city. Misty Todd '13 is not that story. Yes, she's a self-proclaimed farm girl who left home with dreams of becoming a doctor, and now in her third year of medical school at the University of Missouri, she's preparing for her position as Integrated Resident in Family Medicine, which she will begin at MU in July of 2017. But when the aspiring primary care physician is finished with her formal training, she isn't planning a move to a giant hospital or bustling metropolis. She's taking all that she's learned back home.
"I want to help take care of the people who helped raise me," Todd says.
That means going home to LaGrange, Missouri, a small community in the northeast corner of the state. Practicing rural family medicine has always been part of the dream, and taking care of her community means reaching people of all generations.
"I love helping kids and their parents, but I also really love hearing stories from elderly people, having them joke with you and say, 'I remember you being loud in church, and now you're getting onto me about hypertension!'" she says with a laugh. "It's really important to me for people to trust me, and it's difficult to be in this line of work when people can't speak to the type of person who you are. I want to be where everyone knows me and I know them."
Todd was raised on her family farm in LaGrange, the only child of her dad, who manages a Farmer's COOP, and her mom, who's a cook. Education was always important in their household, so much so that Todd wasn't allowed to have a job during high school so she could focus on her grades.
"My parents have been my biggest supporters through everything," Todd says. "I didn't have anyone I knew to look up to in medicine, but I was fortunate to have parents who were behind me no matter what task I tackled."
That's part of why she wants to go back home, to be a role model for other kids in her community who might not have the same encouragement she had growing up. She also wants to dispel myths about health care in a small town.
"My parents didn't graduate from college, and they don't deserve any less adequate health care than the president, and their quality of care shouldn't be based on where they decided to live," she says. "There's a lot that people don't understand about health care — there's a lot I don't know, and I'm in the field — but I do know that if people come to me, they'll get the best care I can provide."
Todd is a strong advocate for learning, asking questions and recognizing one's ability to inspire and motivate change — all skills she honed during her undergraduate years at Westminster College.
"It was very intimidating coming into Westminster, this prestigious liberal arts school," she says. "I was just a farm girl who had a dream of becoming a doctor. But I was taught how to make things change while I was at Westminster, and I learned a lot about how grassroots efforts can really inspire change if you're passionate."
Now Todd gets to put that passion into practice. As a fourth-year medical student, she says her days are a bit better now that the first two years of intense book learning are behind her. She rotates through the core fields of medicine in eight-week blocks and gets to see her own patients and make suggestions for their care while being overseen by resident physicians and attendings.
Outside of the hospital, she recently went to Jefferson City to lobby for MAHEC, the Missouri Area Health Education Centers. It wasn't the first trip to the Capitol for Todd, who lobbied for the Missouri College Fund while she was still a student at Westminster. That, coupled with her undergraduate involvement in the Skulls of Seven, Peer Health Educators, Pre-Health Care Professionals, Take a Friend Home (Nepal), Biology in Belize, Westminster Independents and Alpha Chi, made for a busy four years of college. She also co-founded Making Lives Better, an organization focused on raising funds to help needy children in Nepal.
"Westminster taught me how to hold my own, be confident and walk with pride," she says. "I feel so fortunate every day that I'm going to the best medical school in the area and will end up in a career that I love just because I asked a lot of questions and was persistent. I'm a lot more aware now of what a person can do if they just speak up for the things they're passionate about."
Although Todd says she knows firsthand all the blood, sweat and tears that goes into getting into medical school, she credits Westminster — specifically Dr. Mike Amspoker, Dr. Dawn Holliday, Dr. Jane Kenney-Hunt, Amanda Stevens and Dr. Tobias Gibson — with helping her make it to the finish line.
"I showed up as a naïve freshman in Dr. Amspoker's office and asked for help finding a local physician to shadow because I've always wanted to be a doctor," Todd says. "I never imagined that a simple plea for help would help make the networking connections that truly are influencing my entire medical career so far."
Amspoker connected Todd to Dr. Laura Morris at Callaway Physicians, where Todd shadowed Morris for three years. She then completed a sponsored internship with Morris, and Morris wrote one of Todd's recommendations for medical school. Now, Morris is Todd's Mizzou Med clinical adviser, and her recommendation letter helped Misty secure the Integrated Family Medicine Residency at MU, where Todd will finish her medical training and work under Morris' guidance as a resident.
"She's truly become an irreplaceable mentor and friend over the last six years," Todd says.
She notes, too, that she wouldn't have made that connection if she hadn't put herself out there in the first place.
"There are people at Westminster who are so willing to help you and nurture you and pick you up when you crumble," she says. "But they won't spoon feed you sugar, and you need to be willing to ask a lot of questions. Don't be afraid to approach people you want to be like, and ask them, 'How did you succeed at this?'"
She's also grateful to her alumni donor, David Ross, for making her journey to Westminster possible.
"I wouldn't have been able to go to Westminster without the financial backing of alumni," she says. "It's amazing that someone would provide an education for someone they don't know. I'm forever thankful."