Westminster Earns 2016 Military Friendly School Designation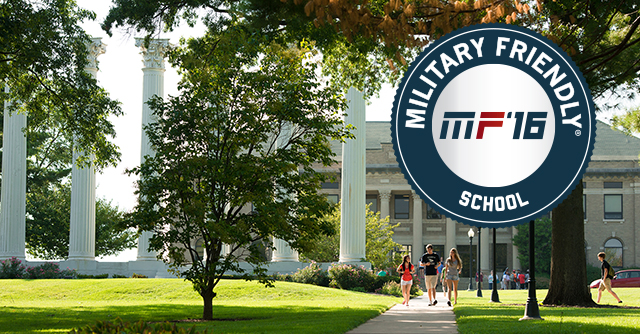 Westminster College has been designated a 2016 Military Friendly® School by Victory Media, publisher of G.I. Jobs®, STEM JobsSM and Military Spouse.
"Westminster College is proud to help our military veterans fulfill their college needs and dreams," said Westminster President Dr. Benjamin Akande. "Our particular focus on leadership helps our military men and women thrive at Westminster and in their careers, post-graduate. We are grateful to them for their service to our country and for choosing Westminster to prepare for the next phase of their lives."
Westminster is also a Yellow Ribbon school, dedicated to ensuring that student veterans benefit from the experience of attending a military friendly school through the financial benefits of the Yellow Ribbon program.
The Military Friendly® Schools designation is awarded to the top colleges, universities, community colleges and trade schools in the country that are doing the most to embrace military students, and to dedicate resources to ensure their success both in the classroom and after graduation. Now in its seventh year, the original, premier Military Friendly® Schools designation provides service members and their families with transparent, data-driven ratings about post-military education and career opportunities.
Institutions competed for the elite Military Friendly® School title by completing a survey of over 100 questions covering ten categories, including military support on campus, graduation and employment outcomes, and military spouse policies. Survey responses were scored against benchmarks across these key indicators of success. In addition, data was independently tested by EY (Ernst & Young) based upon the weightings and methodology established by Victory Media with guidance from an independent Advisory Board of higher education and recruiting professionals. A full list of board members can be found at MilitaryFriendly.com/advisory-board.
The methodology used for making the Military Friendly® Schools list has changed the student veteran landscape to one much more transparent, and has played a significant role over the past seven years in capturing and advancing best practices to support military students across the country.
The colleges, universities and trade schools on this year's Military Friendly Schools list exhibit leading practices in the recruitment and retention of students with military experience. These schools have world-class programs and policies for student support on campus, academic accreditation, credit policies, flexibility and other services to those who served this country.
This marks the seventh year in a row Westminster has been awarded the Military Friendly School designation.  Over those seven years, the Military Friendly Schools list has changed the student veterans landscape to one much more transparent and has played a significant role in capturing and advancing the best practices to support military students across the country.
Each year schools taking the survey are held to a higher standard than the year before via improved methodology, criteria and weightings developed with the assistance of an Academic Advisory Board consisting of educators from schools across the country.
The Military Friendly Schools website  features the list, interactive tools and search functionality to help military students find the best school to suit their unique needs and preferences.