Westminster Grads Honored with Outstanding Beginning Teacher Awards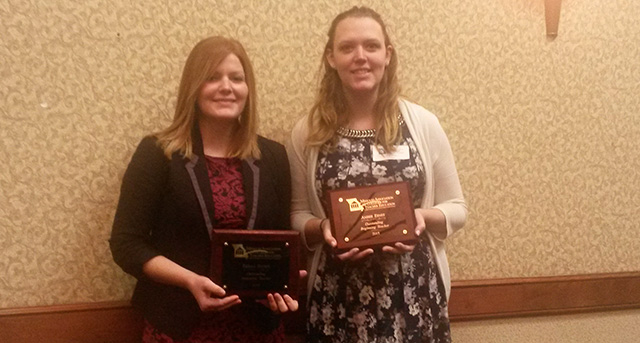 Two Westminster alumni were recently honored with Outstanding Beginning Teacher Awards by the Missouri Association of Colleges of Teacher Education (MACTE). In photo above, Erikka Brown '14 and Amber (Haslag) Ernst '13 display the awards they received at the association's spring 2015 conference.
Ernst teaches fourth grade at St Elizabeth's R-IV school. She has completed a Masters in Educational Technology from MU and has been teaching for two years.
In her first year of teaching, Brown teaches 6-8th grade Language Arts at Auxvasse Elementary School in the North Callaway School District.  She is certified in Middle School Science, Social Studies and Language Arts.
MACTE accepts nominations for the Outstanding Beginning Teacher Awards every two years. Nominees must submit the following:
Feedback from faculty during the student's teacher education program;
Feedback from student teaching supervisor and cooperating teacher during student teaching;
Letter of recommendation from the hiring principal regarding the performance of the student during their first year teaching;
Review of nominations by a committee comprised of faculty and staff at the University and school personnel.
Members from Westminster faculty attending the MACTE event included Drs. Jim Concannon, Linda Aulgur, and Sue Serota.