Westminster College Legacy Story: The Sanders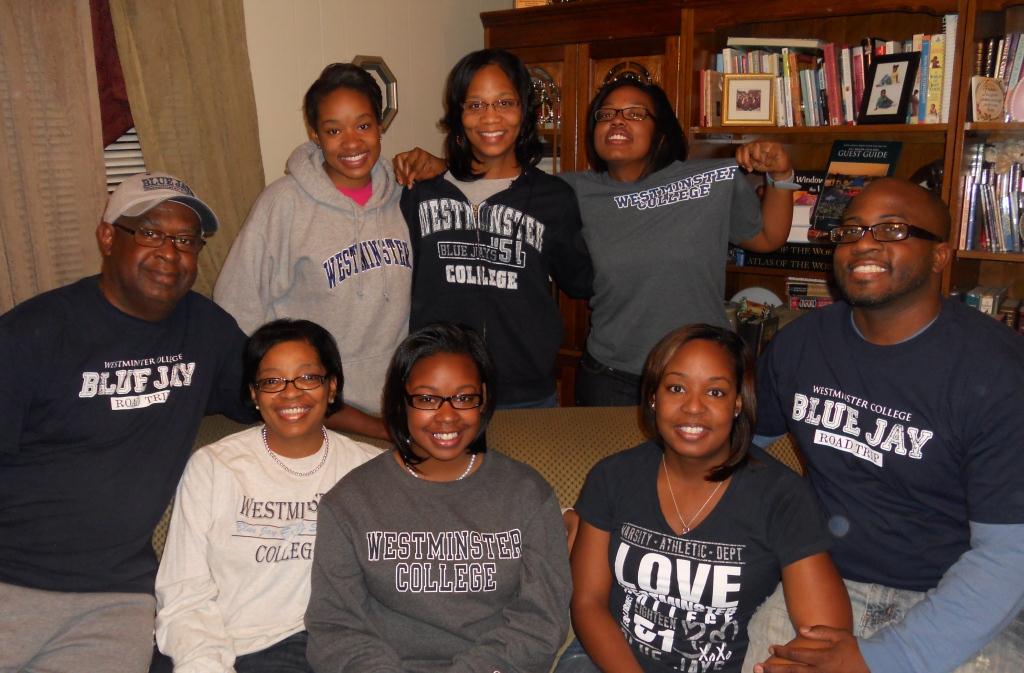 Pictured above, front from left to right: Jonathan Sanders (father), Judith Sanders (mother), Jorden Sanders ('14), Jessica Harris ('06), Leroy Harris. Back, left to right: Jacquelyn Sanders ('11), Tamara Caston ('06), and Jennifer Sanders ('08).
Westminster is a family institution, and few know it better than the family who has sent five daughters in 10 years. The Sanders family from Little Rock, AR toured Westminster College on a whim before enrolling three daughters at the college in 2004. The family legacy strengthened as the oldest two daughters, Tamara and Jessica, graduated  followed by Jennifer and Jacquelyn. However, the Sanders' Westminster legacy was threatened as the family's youngest girl, Jorden, considered not attending Westminster.
"I just couldn't see how a school so small could be big enough for five sisters to have their own experiences," said Jorden, who will graduate from Westminster College in May 2014. "That changed when I walked into the Admissions office and saw my name on the white board. I was Jorden. I was unique. In that moment I became excited to be a Blue Jay, and I haven't regretted a day of it."
And indeed, Westminster has afforded each of the Sanders sisters a unique and fulfilling experience:
Jessica and Tamara graduated with degrees in Education in 2006. Jessica teaches four-year-old kindergarten at Gibbs Magnet School in Little Rock, AR. Tamara teaches fourth grade at Hatton Elementary in Missouri.
Jennifer graduated in 2008, received two additional degrees from Washington University and Western Illinois University, and now works at the University of Missouri- Columbia.
After graduating in 2011, Jacquelyn taught first grade with Teach for America and now teaches at Kipp Delta in Helena, AR.
Jorden will graduate this coming May and plans to immediately enter graduate school.