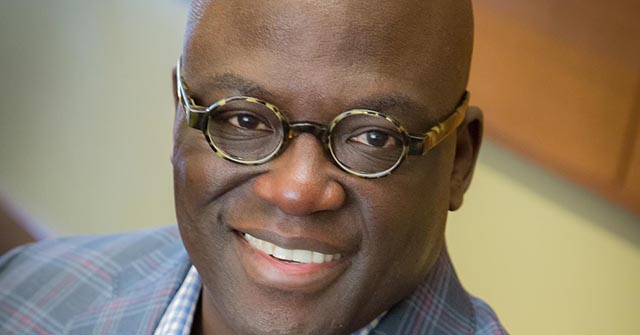 Below, read President Akande's article — "Building Bridges in St. Louis" — originally published June 22, 2017 by Ladue News.
By Dr. Benjamin Ola. Akande
Building Bridges
When we arrived in St. Louis in the summer of 2000, we discovered a remarkable city on the shores of the mighty Mississippi River, home to 91 municipalities. It was a location described by demographers as a city of inclusive excellence, known for its ethnicity, geography and attitudes, all uniquely placed in the middle of America.
St. Louis hosted the World's Fair and the Olympic Games simultaneously in 1904. This remarkable community proved to the world its own creativity, innovation, resilience and purpose. Today, St. Louis is known for many things, including the world champion Cardinals and culinary delicacies like Ted Drewes' concretes, toasted ravioli and Provel cheese.
The city is also renowned for the Eads Bridge, which at one time was the largest suspension bridge in the country. Like the Brooklyn Bridge, its construction relied on sinking great caissons to unprecedented depths into the river below. The construction and design of the Eads Bridge set precedent in many other ways. It was the world's first alloy steel bridge, the first large bridge to span the Mississippi River and the first to carry railroad tracks.
This visionary spirit that enabled the Eads Bridge construction was demonstrated dramatically 90 years later with the iconic design and improbable construction of the Gateway Arch. To this day, the Arch remains the tallest man-made monument in the United States — almost twice the height of the Statue of Liberty — a monument built by immigrants on the east side of St. Louis, beside the Mississippi River.
For more than 100 years, the river was considered as an obstacle. Yet, rather than use it as an excuse, the city of St. Louis — inspired to think big and act boldly — built a bridge to cross both physical and mental divides. It became, in essence, a powerful motivating force made of metal, one strongly linked to what I consider to be the most important work we do in life — building bridges.
The bridge for which I speak is not made of steel or bricks but one that serves as the connector between our past and your promising future. I submit to you that bridges enable us to go from where we are now to where we want to be tomorrow. St. Louis must choose to become a bridge–builder by being bold — by measuring your success not by those we exclude but by those we include.
The city must do it by bringing talents from diverse backgrounds and creating a remarkable force of nature empowered to create, reinvent and transform this community. That is why I believe that bridges are not just made of steel, bricks and mortar. They are built from the foundation of the strongest substance of all: humanity.
Building a bridge is taking responsibility for others. Building a bridge is doing something that others consider impossible. So I ask you the question: What bridges are being built to connect us, to empower us, to make us stronger in our beloved St. Louis?
I recall a story, which I am told is the basis for Simon and Garfunkel's classic song "Bridge Over Troubled Waters." The song tells a story of a drawbridge operator who lived near the bridge for which he was in charge. It was the bridge operator's sole responsibility to let boats pass beneath by raising the bridge and trains pass on top by lowering the bridge.
One day, he received the familiar signal that a train was approaching. Seeing the silver flash in the distance, he reached over to pull the switch that would lower the bridge. But then he looked down in horror to see his son, who had been playing under the bridge, was caught in the rigging.
With no time to leave and release his son and then get back to lower the bridge, he is trapped into making a choice that none of us would ever hope to make: either lower the bridge and save the lives of hundreds of passengers on the train and crush his own child, or save the life of his child and allow the train with hundreds on board to crash. What would you do?
The most common response I get to this question is to do nothing. That is what we do when we face problems that we have never seen before and which there are no easy answers. And so, we do nothing.  When we find ourselves in this unfamiliar zone, we must be ready and willing to act.
My friends, our choices in life are difficult but they are clear. How can we choose to remain safely on our own shores, knowing that we could how we are positioned in the future if we only dare to build a strong bridge to take us there. What can this community do to lean forward, propelled by our past to renew and reinvigorate us to be ready for the fast approaching future?
Simon and Garfunkel's song reaffirms my belief in the intrinsic value of bridges. "Sail on silver girl sail on. Your time has come to shine. All your dreams are on their way; Like a bridge over troubled waters, I will ease your mind."  To be sure that we reach the future without interruption we must endeavor to build a strong bridge that can withstand the currents of uncertainty and vulnerability.
A future column will share ideas and perspectives on how St. Louis can build such stronger bridges from the present to a more promising future.