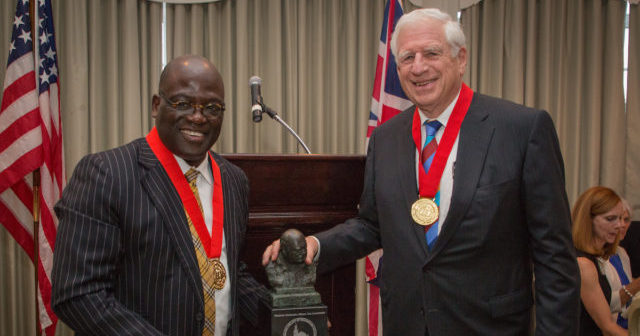 Reflections on the presentation of
 the Churchill Medal of Leadership to 

S

en. John

C

. Danforth—

 June 8, 2017, 

Bellerive Country C

lub in St. Louis, MO
by President Benjamin
 O
la. Akande
The recent shooting in Washington D.C. in which Rep. Steve Scalise, the majority whip of the House of Representatives, was shot (but thankfully is recovering) was another warning that America is becoming even more divided than I had thought. That event stands in stark contrast to our June 8 celebration of leadership in which, on behalf of the Association of Churchill Fellows and Westminster College, I was honored to present Senator John C. Danforth with the Churchill Medal of Leadership. This distinguished award is bestowed on individuals who have demonstrated civility and leadership of the Churchillian kind.
Seventy-one years ago, Winston Churchill and President Harry S. Truman arrived at Westminster College, a place that Truman famously called "a wonderful school in my home state." Churchill's visit to Westminster was brief but profoundly transformational. The message he delivered to the world in his "Iron Curtain" speech became one of the 20th century's most significant lessons—to remain steadfast and vigilant in the face of adversity while sustaining and strengthening important alliances. Churchill reminds us, then and even now, that it takes tremendous power to create purposeful peace. After all, the title given to his speech by Churchill was "The Sinews of Peace" (the "Iron Curtain" label came later).
In America today, we all too often face an "iron curtain" of intolerance, adversity and, at times, the dangerous discourse which shapes and informs our thinking and consequently our actions.
Today, the storm clouds of division and mistrust obstruct our view of the "broad sunlit uplands" and the alliances that Winston Churchill described and admired so famously in his wartime speeches.
However, I remain hopeful.
Hopeful, because we are reminded that the high road of the future, to borrow a phrase from Churchill's most famous speech, is paved by the contributions and legacy of leaders like Jack Danforth.
I believe Jack Danforth is not only a worthy recipient of the Churchill Medal for Leadership, but also a timely one.
Jack Danforth believes that we should all follow a call towards compromise and compassion. In fact, I submit to you that Jack Danforth not only follows that calling—he gives voice to it.
In this era of extreme partisanship, running for office has become a zero-sum game in which candidates play exclusively to their ideological bases. But, I would suggest that most Americans, on both sides of the political aisle, hunger for the return of a commitment to the common good. There is a great need now in America for a renewal of this commitment. It is a purpose, a powerful purpose, for which Jack Danforth has given the full measure of his energy and dedication. In fact, I dare say that Jack is the Churchill of our time.
With increasing frequency, while visiting our National Churchill Museum in Fulton, visitors ask, "Why don't we have more leaders like Winston Churchill?" To be sure, that question comes from a place of admiration and inspiration. And so, may I suggest, as we remember Churchill's legacy, that we might ask a different question: "Why don't we have more leaders like Jack Danforth?" That question also comes with a profound sense of admiration, inspiration and deep gratitude for Jack Danforth's service to our nation and to our world.
Drawing upon the wise words of Sir Winston Churchill — "Troubles rise to the surface, and at the same time also there often rise forces to control or remedy them." In light of the discord in Washington and the divisions among neighbors and friends across the U.S., I commend Jack for his leadership, and I call for our nation's leaders to reflect upon his example.
Jack Danforth is a Churchillian among us.