Changing the World through Value, Acceptance, Inclusion: Sara Hart Weir '04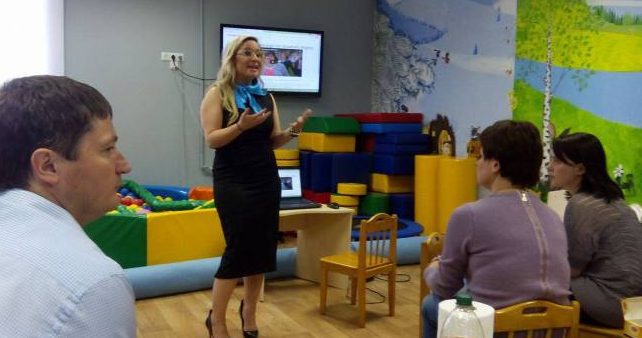 Former Alumni Achievement Award winner Sara Hart Weir, a 2004 Westminster grad and Kappa Kappa Gamma, is changing the world, one person at a time, through her work as president of the National Down Syndrome Society in Washington, D.C. During a recent trip to Kiev, Ukraine, Weir and her colleagues took part in a program through the U.S. State Department and American Councils aimed at bringing together leaders from around the globe to effect positive change in the world.
As president of the NDSS, Weir is responsible for overseeing the mission and administration of the organization, which is the largest nonprofit in the United States dedicated to advocating for people with Down syndrome and their families. Last fall, the NDSS hosted an American Councils fellow named Mariana Matys, who's from L'viv, Ukraine.
"Mariana is also a mother to a beautiful daughter with Down syndrome and a phenomenal advocate," Weir wrote in a blog post about the NDSS visit to Kiev. "Earlier this year, Mariana applied to reciprocate the partnership, and we were accepted to take part in a weeklong visit to Ukraine to raise awareness about Down syndrome, provide our NDSS resources to the Down syndrome community throughout the country and help support the leadership of UDSO, led by the inspiring Sergey Kuryanov, to expand their existing efforts and mission."
During their visit, Weir and her colleagues met with KULEBA Mykola Mykolayovych, the commissioner of the president of Ukraine for Children's Rights, to discuss Down syndrome advocacy. Weir also conducted a lecture about the NDSS and Down syndrome in the United States for students, teachers and faculty from Borys Grinchenko Kyiv University; observed a social therapy class; toured local schools; appeared on a local TV station with Matys; and discussed opportunities for collaboration between the NDSS and UDSO.
Weir's passion for advocating for people with Down syndrome and their families began more than a decade ago, when she mentored Kasey, a young woman with Down syndrome from Kansas. From a young age, Weir was determined to change the world for the better. She was a double major in psychology and political leadership (self-designed) at Westminster and went on to earn her Master of Science in public policy and management from Carnegie Mellon University's Heinz College. An active alumna, Weir was elected to the Westminster Board of Trustees in 2013, and she recently spoke at Alumni Weekend 2016 as part of #WCGirlSquad. She also served as the 2014 freshmen convocation speaker.
To learn more about Weir's trip to Kiev, visit her NDSS blog.