Westeryears: Excuses for Missing Class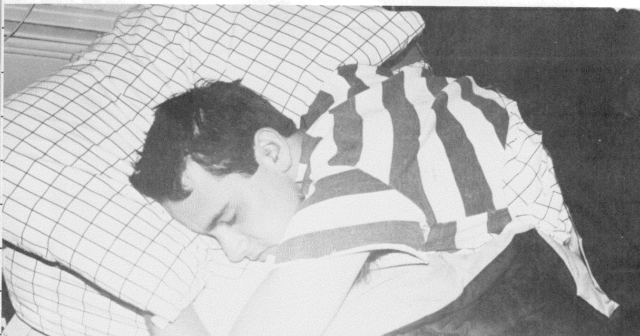 Photo caption from yearbook: The rigorous schedules and late study nights often caused students to sleep through their eight o'clock classes.
A long-standing, universal tradition for students — not only at Westminster but at any college or university — is trying to find the right excuse for missing a class. When the academic year begins, all students have the best of intentions to make every class on time, but sometimes even the most well intended back slide. In 1985 the Westminster yearbook staff compiled a list of the best excuses offered. Here are the most common ones:
It was Monday, and I was still longing for the weekend.
It was Friday, and I couldn't wait for the weekend to start.
The weather was warm, and the Lake of the Ozarks was calling.
My "soaps" were on, and this episode of "General Hospital" or "All My Children" could not be missed.
I had no electricity because of a thunderstorm.
It was raining and dark outside, and I didn't wake up.
It was my birthday and such a special day didn't include going to class.
I had to study for a test in another class.
My alarm clock didn't go off. (not very believable when offered for missing an afternoon class)
According to one professor in the same article, he had a student who deserves special recognition for the most creative excuse for not coming to class because his homework was not completed: "One student tried to tell me he didn't come to class because his paper got caught in the dishwasher, and the ink washed off."
For those of you Westeryear readers who did not manage to have perfect classroom attendance, what was your most creative excuse?