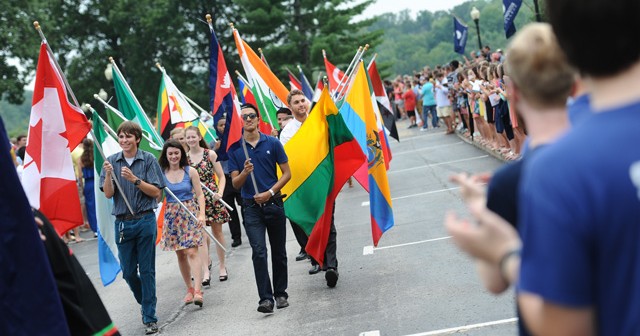 Dear Westminster Community Members,
President Donald Trump issued an Executive Order on January 27 that, in part, bans immigrant and nonimmigrant entries into the U.S. for at least 90 days, for nationals of Iran, Iraq, Libya, Somalia, Sudan, Syria and Yemen, unless the government determines that the entry is in the national interests. The Executive Order has sent shockwaves across college and university campuses throughout Missouri and the nation, and for good reason. Most institutions serve international students, faculty, and staff, and their international populations are valued for the diversity of thought and global perspective they bring to our colleges and universities, our communities and our domestic and global economy.
Westminster College is no different. It has a long and proud history of serving international students and encouraging international travel as a way to learn from the world around us. Westminster currently serves approximately 108 international students; 6 of them from the list of countries identified in the Executive Order. At this time, we do not believe we have any faculty, staff, or students in transit to the U.S. who are nationals from the countries referenced in the Executive Order. Given the uncertainty of the situation, we recommend that members of our community who are nationals of the countries listed carefully consider international travel at this time.
Here's what Westminster College is doing in response to the Executive Order announcement:
We recognize these events are unfolding and are monitoring them with our Legal Counsel in order to ensure accurate and timely information as we know it.
Our Center for Intercultural Engagement is reaching out to all international students studying at Westminster who are potentially impacted by the order to discuss their concerns.
Our Global Initiatives and Churchill Institute for Global Engagement will continue to conduct "Listening Posts" with international students to discuss issues of importance.
The Westminster Center for Faith and Service is a designated space where anyone can go to receive reassurance and support in the face of uncertainty.
We will host a campus discussion Tuesday, January 31st at 4:00 p.m. in the Coulter Science Center Lecture Hall.  I encourage you to attend this important discussion.
Embracing diversity and global learning are core values of Westminster College. Let us stand together in showing our international students, faculty, and staff members that they are welcome and they have our unwavering support at Westminster College.
Together we move forward,
Benjamin Ola. Akande
President