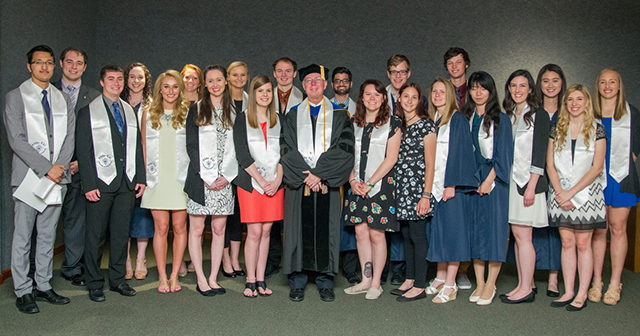 Comments by President Benjamin Akande at the 2016 Alpha Chi Induction
Church of St. Mary the Virgin, Aldermanbury, Westminster College
May 7, 2016
Good morning.
The world lost a great leader in 2013 when Nelson Mandela, or Madiba as he is affectionately referred to, passed.  Richard Stengel, who collaborated with Mandela on his autobiography, tells a story that I believe is relevant on such an occasion as this:
Richard tells it this way: "Nelson and I were on a flight down to Natal Province in a prop plane. There were four of us on the plane. As soon as we get on the plane, Mandela picks up a newspaper. You see, he adores newspapers. I guess he didn't have them for 27 years while in prison and so he revels in the touch of newspaper, and he reads every single story, cover to cover."
And so the plane takes off, and Richard describes that he was across from Mandela, watching him read his newspaper.  They were about halfway there when Mandela pointed at the window. Richard continues his story …
"Look, he said. And I saw, to my horror, the propeller had stopped turning.  Mandela said very, very calmly, "Richard, you might want to let the pilot know that the propeller isn't working." I said, "Yes, Madiba." I walked to the front of the plane but the pilot was already aware of the situation and he said to me, "Go back, and sit down. We've called the airport. They have the ambulances already out there and they're going to coat the runway with foam."

I went back to my seat and told Madiba what the pilot had told me, and in a very solemn way, he listened, and said, "Yes," and then picked up his newspaper again and continued to read.

I was terrified, but the way I calmed myself down was by looking at Mandela. He was as calm as could be.

The plane landed without any incident and he never changed his expression. When we had a brief moment alone, Madiba told me, "Man, I was scared up there." It was such a revelation because I realized that courage is not being scared. Courage is being terrified and not showing it.

So I was empowered by this experience. I became courageous by watching Madiba.
That's what Mandela did his entire life – overcoming insurmountable challenges living in a state of unpredictability, functioning in a world of no assurances, a place full of fear and uncertainty.
I leave you with the words of Mandela: "Courage is not the absence of fear, but the willingness to triumph over it. The brave man and woman is not one who does not feel afraid, but one who conquers that fear."
As we honor as members of Alpha Chi, please do not allow fear to dictate your actions. Don't be distracted when the propeller stops working, or when things don't work as they should. You have earned the right to remain strong and to remain confident in the midst of uncertainty.
May you find a way to rise above your fear, just like Madiba. Thank you, and congratulations.