Kappa Alpha Order at Westminster College Celebrates 125 Years of Existence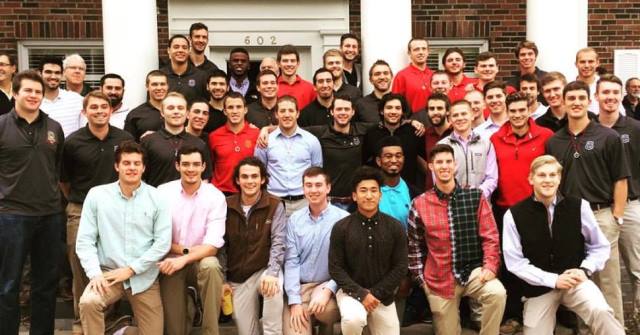 One of the top Kappa Alpha chapters in the nation, the Alpha Eta Chapter of Kappa Alpha Order (pictured above) celebrated their 125th Anniversary on Saturday, October 24, 2015 at Westminster College.
Events included the ceremonial planting of an oak tree (photo below) and a short reception in the Mueller Student Center preceded by dinner in the Backer Dining Hall. A few notable alumni of the Alpha Eta Chapter and the President of Westminster College, Dr. Benjamin Akande, spoke at the dinner.
"Hitting this milestone of 125 years is an incredible achievement, but to do so with these accomplishments is truly remarkable and noteworthy," Dr. Akande said. "It is evident that the leadership of your most established alumni and the strength of your newest brothers are ensuring that this Alpha Eta chapter makes a difference in our world today and that you will be here for another 125 years."
Alumni from across the nation were in attendance, including those who work in the Kappa Alpha national office and the Knight Commander of Kappa Alpha Order, Darren Kay, another Alpha Eta alumnus.
"As a chapter, we were excited to have the chance to take part in an event that has so much meaning behind it," says Alpha Eta Historian Clayton Harrison, a junior from Russellville, MO.
Since the signing of its charter by Horace H. White on January 28, 1890, Alpha Eta has enjoyed a rich history of success not only within the Greek community of Westminster College, but also on a national level.  The chapter has received four George C. Marshall Awards from the national order in the past six years and 11 since the awards inception.  The George C. Marshall Award is presented annually to the top one to three chapters in the Order in recognition for their superior operations and performance.
Along with the Marshall Award, Alpha Eta has won 32 Samuel Zenas Ammen Awards (four in the past four years), presented to chapters for excellence in finances, recruitment and chapter growth, communications, Project Outreach, Operation Crimson Gift, and overall chapter excellence.  Every year the top 10 percent of KA Chapters are recognized with the Samuel Zenas Award.
Alpha Eta continues to work with the Muscular Dystrophy Association through philanthropic events to raise money and awareness. Along with the MDA, Alpha Eta volunteers on a regular basis at the John C. Harris Community Center to cater food to those who are less fortunate.
When asked about service and involvement, Alpha Eta Sergeant at Arms Nick Cessna, a junior from O'Fallon, MO, says, "It's nice to see a group of guys come together for a common cause. As members of KA we try making an impact on and off of campus throughout the year. We feel it is our duty to uphold the high standard KA has set in the past of bettering the Fulton community."
In 2014, Alpha Eta won the North-American Interfraternity Council Chapter Award of Distinction.
"As a member of this chapter for the past four years, and as President for the last two semesters, I can honestly say that this chapter has consistently grown stronger and stronger," says Alpha Eta President Mik Ebert, a senior from St. Louis, MO.  "The accolades show that we are constantly striving to be the top house on this campus and one of the top houses in the country. As I leave this house I have the utmost confidence that we will continue to excel in the fraternity world."
Information contributed by Clayon Harrison '17.