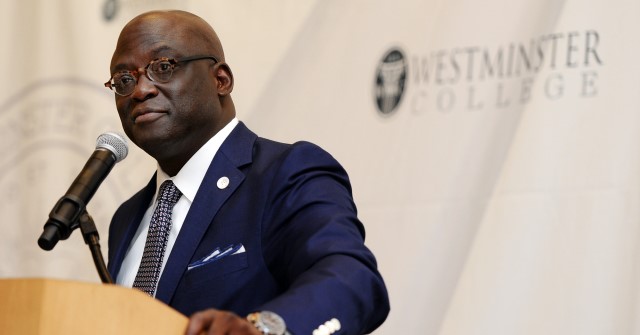 On May 8, 2015, Westminster College introduced its 21st president, Dr. Benjamin Akande –  a leader who will take Westminster into its next era of excellence.  Watch the announcement on video and read Dr. Akande's inspiring words below.
Westminster: From Success to Significance—Dr. Benjamin Akande
Members of the Board of Trustees, Faculty, staff, students, alumni and friends of Westminster, I am humbled and honored to accept the position as your new president. I am grateful to the presidential search committee and to the entire Westminster College community for bestowing on me the singular honor to lead this great institution.
I am honored to follow in the leadership steps of president Forsythe and those leaders that came before him dating back to Westminster's first president, Samuel Laws, in 1855. I'd like to take this opportunity to salute president Forsythe. Thank you.
I'd like to express special thanks to Wally Head, outgoing chair of the Board of Trustees, and Hal Oakley, the incoming chair of the entire Board of Trustees.
We have great work to do together as we advance the strategic plan and develop a national reputation for success in developing young men and women from all over the world to be leaders in a global community.
I also want to pay homage to those who made it possible for me to advance in my own lifetime:
To my Lord and Savior, who shepherds me and whose word guides me in every endeavor of my life.
To my parents, Rev. Dr. Samuel Ola. Akande and my mother Mrs. Comfort Olalonpe, his wife of 58 years, who set high standards for my four sisters, Nickie, Bola, Yemi, Fola, and me from the time we were born and who always encouraged us to aim high. For them, no sacrifice was too great and no price too high to educate and raise their children. I thank god for sparing their lives to see this day.
To my best friend, confidant, cheerleader, my wife of 23 years, Bola, who inspires me every day. As well as our three lovely daughters, Moyosola, Anjola and Reni, who remind us that the future is in the hands of our children.
I also want to thank my family at Webster University, my home for the last 15 years, for their support and unconditional love and for giving me boundless opportunities to grow personally and professionally. I am here in part because of them.
For me, this is the high point of a journey that began 35 years ago when I came to America from Nigeria as a 17-year-old to attend Wayland Baptist University in Plainview, Texas.
I remember the day I stepped onto that campus, and I was scared to death. What did I know? How could I possibly succeed in this new and different land? I called on the strength of my parents and grandparents.
As I continued as a graduate student at the University of Oklahoma and later as a faculty member and administrator at Wayland Baptist, I found my footing as I realized how I could help others to accomplish goals they could only imagine.
And then as dean of the Webster University's Walker School of Business and Technology. I began to understand the power of humility – and to harness my real strength as a leader – becoming a servant leader…giving of myself for the betterment of others.
I stand before you this morning as someone deeply committed to honoring Westminster's tradition to the liberal arts, teaching excellence and learning in an intimate environment and an iconic place, a frequent stop for the world's most influential leaders and those who aspire to lead in the future.
I stand before you as someone who is enamored with Westminster's mission "to help men and women develop competencies, commitments and characteristics which have distinguished human beings at their best."
I stand here as someone who is committed to ensuring that Westminster exceeds its goals to support scholarships, endowments and facilities.
I stand here as someone who is deeply committed to working with you to serve as the navigator, to steer the ship of this great institution from success to significance.
As we embark on this journey together, you and I. We will collaborate with creative resonance, possessed of a sense of constructive impatience; together, we will ascend to greater heights as a unified and high performing team – working across units and with unbridled inquiry. We will forge our future together.
There is an old African saying: "If you want to go fast, go alone. But if you want to go far, go together."
I have no doubt that by walking – and working – together with you consistently we can sustain and elevate Westminster's place in the pantheon of America's great liberal arts college tradition.
Winston Churchill, whose Iron Curtain speech here at Westminster, serves as a reminder that indeed the future belongs to those who can see it. He said it better – "Courage is the first of all human qualities because it guarantees all others."
I invite you to join me as we unlock the potential that we all know resides within Westminster College.
That we will do so with purposefulness and in the coming months and throughout the first 100 days of my presidency, I will engage in a listening and learning tour. This will be an opportunity to visit with as many of you students, faculty, staff and alumni as possible.
I want to hear your hopes and aspirations for how we can continue to steer Westminster to greatness. I want to hear your thoughts about the challenges and opportunities that abound for our great college. I want to get acquainted with you and work with you to incorporate your ideas into our plans for the coming years.
As Westminster moves toward the future, we will navigate today's ever-changing higher education landscape with strategic direction as we inspire current and future generations of students to embrace excellence, cultivate their intellectual curiosity, and deepen their compassion for others.
Finally, I have a message for our young people who are pondering your college options: consider Westminster as your destination. Consider us not just because we have a rich heritage of preparing young men and women for the professions and for service to humanity. We are a great college and in the coming years we will only increase in our achievements and recognition.
Most of all, you have my personal guarantee that I will do all in my power to see that Westminster remains affordable and accessible for students worldwide who want to enjoy the quality transformational learning experience we have to offer.
I am honored and humbled to take on the awesome responsibility of leading this incredible institution with such a rich and storied history.
I thank you.
God bless you.
God bless Westminster College.
And go Blue Jays!