Experts on Climate Change and Islamic Culture to Speak at Hancock Symposium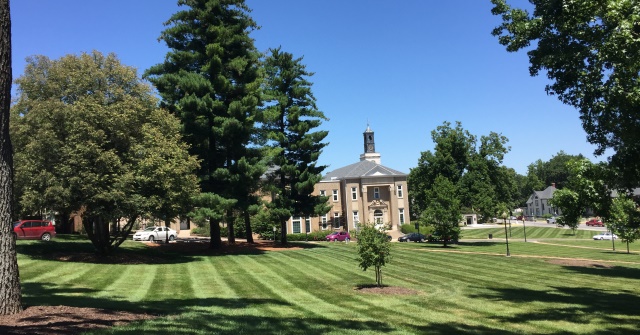 Dr. David Titley, a nationally known expert in the field of climate, the Arctic, and national security, and Dr. Farhat Haq, a Pakistani born college professor who specializes in Islamic culture, will both speak Tuesday, September 15, as a part of the Hancock Symposium at Westminster  College.
Dr. Haq will give her free public presentation, "A View from Pakistan," at 10:30 a.m.in Champ Auditorium.
She will examine the damage done to "rule of law," justice and liberty in the Muslim world in the wake of the War against Terror in Pakistan, which occurred in 2014 and is labelled by the media as "Pakistan's 9/11" since the move toward democratization came to a crashing halt.
Dr. Titley will give his free public presentation on "Climate Change and Security" at 2:45 p.m. in the Lecture Hall of the Coulter Science Center.
He refers to what is currently happening in the world as "climate change war" with the trend toward allowing climate change to destabilize nations and lead to wars as prices go up, mega disasters take place and new stresses hit governments.
"The parallels between the political decisions regarding climate change we have made and the decisions that led to World War I are striking,' says Dr. Titley.  "The decisions made in 1914 reflected political policies pursued by short-term gains and benefits, coupled with institutional hubris and a failure to imagine and understand the risks or to learn from recent history."
Dr. Titley served in the U.S. Navy for 32 years, rising to the rank of Rear Admiral. During that time he served as Oceanographer and Navigator of the Navy, Deputy Assistant Chief of Operations for Information Dominance; was the first commander of the Naval Oceanography Operations Command; and initiated and led the U.S. Navy Task Force on Climate Change.
After his retirement, he served as the Undersecretary of Commerce for Operations, which is the Chief Operating Officer at the National Oceanic and Atmospheric Administration.
He is the founder of the Center for Solutions to Weather and Climate Risk at Penn State University.
Dr. Haq has been a longtime lecturer and writer on what effect the conflict between Muslim Modernists and Islamic fundamentalists is having on Muslim society and particularly the implications of this conflict for Muslim women.
She is a Professor of Political Science at Monmouth College and a visiting Professor at Lahore University of Management Sciences in Pakistan.
She has received National Endowment for the Humanities awards to engage in advanced studies on topics of Comparative Religions at Harvard University, Nationalism and Ethnic Politics at the University of Wisconsin in Madison, Islamic Origins at the University of Chicago and an Asian Values Debate at Columbia University.
She was the recipient of the Burlington-Northern Award for Excellence in Teaching and the Fulbright teaching/research scholarship.
Dr. Haq has published in the area of ethnic politics, gender and politics, Islam and human rights, and militarism and motherhood.
Both Dr. Titley and Dr. Haq will also have One on One breakout sessions at 1:30 p.m. that day. Dr. Titley's session will be in Champ Auditorium and Dr. Haq's session will be in Room 139 of the Coulter Science Center.
The topic of this year's upcoming Symposium is "Security vs. Liberty: Balancing the Scales of Freedom."  Presenters and discussion will center on how America maintains a balance between championing liberty and preserving security. Ever since 9/11, the demand for security has compelled America to take a serious look at how increased security affects individual freedoms.
Westminster recently announced the establishment of a security studies major beginning this fall.
The Hancock Symposium is a yearly event at Westminster College.   Classes are suspended for two days so the entire Westminster community can attend lectures, panel discussions and presentations by noted experts on one particular subject of global interest.  The public and media are also invited to attend.
For more information on the Hancock Symposium, go to http://Symposium.Westminster-MO.edu.