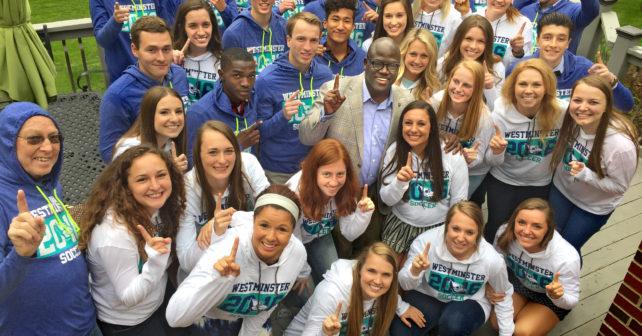 The life of any college president is a balancing act with not enough hours in the day for all that needs to be accomplished.  Westminster's 21st President Akande discovered that in short order.  However, since the day he first arrived, his top priorities have been to ensure the College delivers on its promise of transformational learning, a hallmark of Westminster for 166 years, and that the College remains responsive to the students' needs.
On any given week, you will find President Akande meeting with prospective students, stopping by Greek houses, attending campus events, visiting with students during office hours, hosting student gatherings at the President's Residence, and launching new programs to prepare students to lead lives of significance.
One of President Akande's greatest joys is talking with students and hearing what they have to say.  He carves out regular office hours so students can stop by and visit him.  Until the end of this school year, the President will set aside one hour a week from noon until 1 p.m. when students can visit with him in his Washington West office.  Students should feel free to drop in without an appointment.   President Akande will be available on Tuesdays-April 4 & 18 and May 2 & 9; on Wednesday, March 29; and on Thursdays-April 13 & 27.  Students can also make an appointment to discuss personal  issues or issues on campus by calling 573-592-5315.
President Akande attends many Blue Jay athletic events as well.  He also meets with prospective students and often times these meetings take place on weekends.  Recently on a Saturday morning he met with a young lady and her family from O'Fallon, Missouri, to discuss her plans to study pre-med.  After a campus tour with James Lemon, a Westminster student ambassador, and sharing hot chocolate with President Akande, the next week the young lady paid her deposit to come to Westminster, and she will attend in the fall.  The final deciding factor?  Westminster's President took the time to meet with her.  The President at her other top choice did not.
In addition, The President travels to other events in which our students are involved.  For example, one recent Sunday, he attended a matinee of a musical in Jefferson City where two of our students were performing.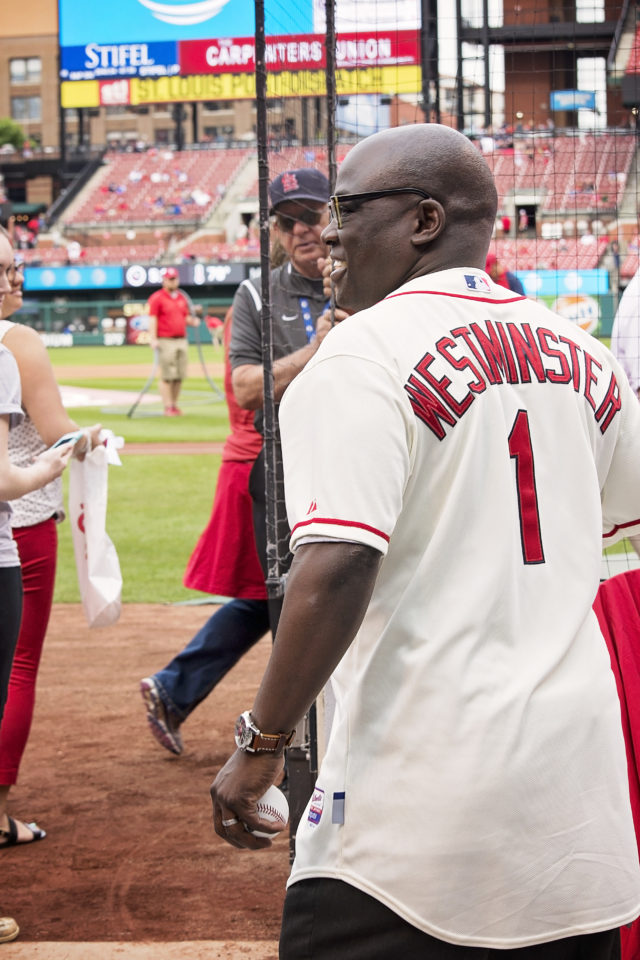 According to a recent article in the student newspaper, The Columns, Kaely Fitterling, '18, related that she had emailed President Akande at 6 p.m. one evening and received a phone call an hour later from one of his assistants to schedule a meeting the next morning to discuss some concerns she had as a transfer student.  In the same article, basketball player Ali Perry, '19, reported that President Akande was quick to act when she contacted him about her uncle with disabilities being unable to attend her games because of the lack of accessibility to the Historic Gymnasium.  President Akande forwarded her email to Dean of Student Life Dan Haslag, and a ramp is now attached to the Historic Gymnasium for the home basketball games.
When President Trump's executive order banning immigrant travel from seven countries in the United States was enacted, President Akande sent out a campus wide message explaining what the order meant to our students affected and what steps the College was taking and what resources were available to help them. He followed it up with a specially called town hall meeting on the subject.  In the town hall meeting President Akande explained the College's longstanding mission of diversity and why it was important and assured the six international students in his office to address their questions on the impact of the President's executive order. Also, at the meeting was the College's legal counsel who is an immigration expert.
President Akande is always looking for ways to improve the educational opportunities our students are receiving.  When he first assumed the presidency, one of the major challenges for faculty and students he addressed was vastly improving their access to the Internet.  "Upon arrival at Westminster College, President Akande noted the substandard WiFi access and bandwidth across campus," says Westminster Chief of Staff Gary Stocker. "He shared stories of students sitting in the local Walmart parking lot to get acceptable WiFi coverage. In his first year at the College, President Akande more than tripled the WiFi access points and increased bandwidth from 250 megabytes into and out of the campus to more than 20 gigabytes in and out—a 40-fold increase."
Stocker cited the example of a Tech-Tuesday event after the improvement went into place where 45 students and faculty were each accessing the Internet on campus through some sort of computer device with not one reported performance issue.
President Akande was able to make this  huge improvement for the campus by convincing a current donor to convert her endowment into a one-time gift to support improved technology for students, faculty, and staff.
The President has also been instrumental in bringing opinion makers and global corporate leaders to campus to share their views and interact with our students.  Just a few of the recent distinguished lecturers students have had the privilege of hearing include Dr. Bennet Omalu, the doctor who was the subject of the movie Concussion as a result of his long struggle to bring his research on brain damage suffered by athletes into public light; President and CEO of the multibillion dollar company Mallinckrodt  Pharmaceuticals; President and CEO of Carnival Cruise Lines Arnold Donald; Nobel prize winning author Wole Soyinka; and the founder of Build-A-Bear Workshop Maxine Clark.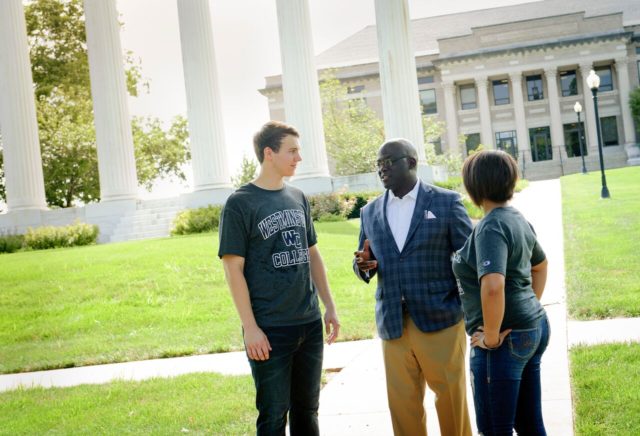 He has been proactive in helping students gain employment and internships.  Last October as a part of his professional development initiative,  he took Westminster 20 students to visit four St. Louis employers–Edward Jones, Mallinckrodt Pharmaceuticals, Dowd Bennett Law Firm LLP and Wells Fargo Advisors—for an inside look into what companies are seeking in new hires and to learn more about the individual organizations.  Lunch was held at the St. Louis Club, where students learned the importance of that establishment's role in the business and social community.
This February President Akande took nine Westminster students to visit Advanced Technology Services (ATS) in Peoria, IL, and arranged for them to tour the facility, learn about the company and interview for full-time jobs and internships.  Over the two-day visit, students were able to attend the weekly ATS all staff meeting, where they were introduced, and heard a presentation from the ATS sales department.  As a result of the visit, one Westminster senior was hired by the company and another will work as an intern in the Sales Department this summer.  Two other internships are also possible.  Sponsored by the CEO of ATS, Jeff Owens, Westminster Class of '87 and the Westminster Center for Career Development, this trip was the crucial first step in building a stronger partnership between Westminster and ATS.
The level of energy and passion President Akande brings to the presidency is paying off in other ways as well.  Since coming to Westminster, he has raised more than $14 million in gifts and new pledges, money that is paramount for the continued financial viability of the institution.  On Giving Tuesday in 2016, he visited 20-plus classrooms and personally matched students' collective gift 2:1 of $1,400, bringing the total to $2,800 for the Westminster Fund. The money raised has been made available to support faculty professional development.
The President's schedule in the past months has taken him on the road, visiting with alumni and seeking their support and contributions for the College.  While President Akande may not physically be on campus every day, his top priority has been to  make Westminster a better place for its students. In the face of the same enrollment challenges most colleges and universities are confronting, the President never loses sight of the fact that his first responsibility must be to ensure students have the much needed resources, the best of facilities, the latest programs, and the necessary scholarship assistance to be successful.  Every waking moment he is working to make Westminster the best possible learning environment for the students.