Skulls of Seven Loyalty Award Resurrected in Honor of Dr. Forsythe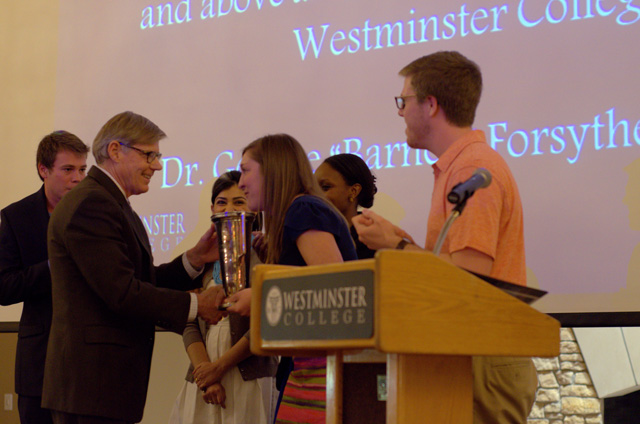 At the Westminster College Leadership Conference in March, members of the Skulls of Seven presented over the history of presidential leadership at Westminster College.
"After researching each of the College's 20 presidents, we felt that the many contributions and achievements of our current president Dr. Barney Forsythe will go down in history as being among the greatest presidents that this College has seen in its 161 years," says Skulls of Seven Grand Marshal Ryan Harrison '14.
"We felt it necessary to resurrect the Skulls of Seven Loyalty Award, last presented in 1930, as a way to thank President Forsythe for his years of service to Westminster and as a means to immortalize his passion and loyalty to the College. From this day forward, the award will be presented only to the most exceptional members of the Westminster Community as this Society deems worthy."
Skulls of Seven Loyalty Award
Presented to a citizen of this community who has made significant contributions to the institution and has demonstrated exceptional passion, service, and above all else, loyalty to the welfare of Westminster College. 
Awarded to Dr. Barney Forsythe
April 14, 2015