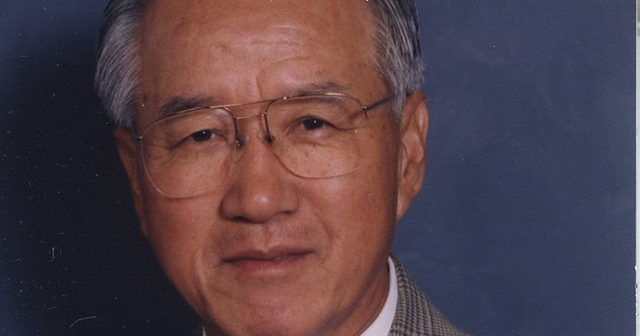 We were saddened to recently learn that Prof. Peter Kim, Professor Emeritus of Political Science, passed away in South Korea on May 12 (May 11 in the United States).  He was also the father to Katherine Kim '90 (Kappa Kappa Gamma), Patrick Kim '88 (Phi Delta Theta), and Michael Kim '87.
Peter H. Kim was born January 20, 1934 in Pusan, Korea. He received his B.A. from Ohio University and his M.A., from the University of Missouri-Columbia.  Peter began his career at Westminster College as Assistant Professor of Political Science in September, 1967.  According to his original personnel record, Peter was a member of Pi Sigma Alpha (Political Science Honorary Society) in 1961 and received an International Leadership Development Fellowship.  Prof. Kim was promoted to Associate Professor in 1972, followed by being awarded tenure in 1974.  He taught at Westminster for 37 years, before retiring at the conclusion of academic year 2003-2004.  After his retirement from Westminster, Peter and his wife, Nam Hiang Kim, returned to Korea, where Peter taught courses in American politics and government at several Korean universities, where he was much sought after and highly regarded by both faculty and students.  They have three children, Michael M. Kim, Patrick M. Kim, and Katharine Kim. Nam and their children survive.
Dr. Kurt Jefferson said, "Peter loved, cherished, and held his wife and children in very high esteem.  He was so very proud of Michael and all the great work he did in his Emmy Award-winning career as one of America's elite sports journalists.  He deeply respected and was proud of Patrick's work as a budding global businessman in Australia and East Asia.  And his darling daughter, Katharine, made him proud as she worked in the halls of power in her homeland, the United States.  He was proud to have American children."
At Westminster, Peter taught a number of courses, including American Government and Politics, the American Presidency, International Law and Organizations, Introduction to Asian Studies, and several upper level courses in East Asian politics, Southeast Asian politics and culture, and politics of the non-western world.
Professor Emeritus Bob Seelinger remembers, "His understanding of comparative politics and cultural traditions was enormous, and as the result (among other things) he was able to help his students understand the American political traditions and practices in a deeper, wider, and more nuanced way."
Professor Emeritus Richard Mattingly said, "His Westminster course in Asian Studies and his courses on U. S. Government and Politics were rich tapestries of anecdotes about the perspectives and customs of the many different people he met both here and abroad."
Prof. Kim was also a scholar.  According to Dr. Jefferson, Prof. Kim wrote several important scholarly journal articles on Southeast Asian culture (focused on the usage of words, symbols, and other cultural traits in explaining culture and politics in Laos, Cambodia, and Vietnam) and used his research in his courses.  He spent an entire year teaching in Peking in the early 1980s before American academics were allowed to visit for long periods of time, teaching at the Chinese government's main international relations university, and he spent summers and sabbaticals teaching in his native South Korea.
Dr. Jefferson remembers:  "This man who had been forced as a child to speak Japanese in school by the occupiers of his land held no ill will to that people and went to Japan often and established solid ties with the government and academic elite there.  He truly embodied the Abraham Lincoln adage, 'How do I get rid of my enemies?  I make them my friends.'"
Prof. Kim is well-remembered by his colleagues as a pioneer in internationalizing the college and in bringing many international students to Westminster.  Professor Emeritus Wayne Zade said, "His presence in central Missouri, first at MU then at Westminster, and his sponsorship of many Korean students were works of peace as our countries continued to heal through the 1960s.  Peter was an advisor on Asian Studies to a number of Missouri governors, senators, and business figures."
Professor Emeritus Mattingly knew Peter and his contributions well. He remembers: "Peter initiated our exchange program with Duksung University in Seoul, a program which continues to bring Korean women to Westminster. He traveled extensively throughout both East and Southeast Asia, always finding a way to make himself welcome where and when doing so was next to impossible. It helped that he spoke and read not only Korean but Japanese and Chinese. Japanese wondered where in Japan he came from—he had no discernible regional dialect! He traveled the silk road into Tibet years before Tibet became accessible to people from the West, and he went deep into central Southeast Asia, a region which was then the heart of the opium trade. This trip was beyond dangerous; for outsiders it bordered on the suicidal."
Professor Emeritus Seelinger remembers: "Over the years Peter recruited a great number of Korean students.  Initially Peter knew most of these students from family connections, but this was less the case as time went on and the reputation of Westminster grew (especially through Peter and his students).  Nevertheless, Peter played a key role in the education and experience of virtually all these students.  He taught most in the classroom, in almost all cases served as their initial academic advisor, and throughout their time at Westminster was their mentor.  Prior to the enrollment of Korean students, Westminster had few international students, and Peter helped us all understand better the dynamics of international education and how best to serve our students.  Peter most clearly laid the foundations for the internationalization of both our curriculum and student body that is such a key component of the Westminster community."
Prof. Emeritus Seelinger said, "Throughout his career Peter was much appreciated and highly respected by both his students and colleagues and to so many of us was a mentor of the highest order.  Peter was always tactful and diplomatic and regularly sought out for his thoughts and perspectives."
Prof. Keith Hardeman remembers "Peter was a sweet man.  He had a way of visiting with you and making you feel like that conversation was the highlight of his day.  I sat in Peter's office on many occasions, discussing teaching and communication strategies for working with our Korean students who were having difficulty with English.  Peter was so patient.  He never acted as if I were intruding on his time.  To the contrary, he always seemed so pleased when I came to his office to talk.  He was the consummate colleague and a great friend of the College and of all his colleagues."
Dr. Jefferson said that Prof. Kim "touched the lives of so many of us and several generations (literally thousands) of students.  Peter Kim was a true hero to many of us who were blessed to work with him and call him our friend."
Peter Kim is a Westminster legend whose work and impact on the college will never be forgotten.
– Dr. David Jones
---
Shared by Peter Kim's son Michael ….
In memory of our father, Peter Hongkoo Kim (1934-2016) –
A young man walked into the U.S. Embassy in Seoul not long after the end of the Korean War. His lifelong dream was to attend an American university. These were the final steps toward that goal. That dream, however, was placed on hold when he was informed that the deadline to receive student visas in time for fall classes had passed. He asked what he could do to seek a waiver due to a military obligation during wartime. He was told to write the President of the United States for assistance. Apparently, the skills necessary to detect and decipher sarcasm were not taught in his English language classes. So a letter was written. Many months later, the former soldier was informed that a scholarship to attend the University of Ohio was arranged by someone in the White House. It would mark the first of the many great adventures in the wonderful life of Peter Hongkoo Kim.
A beloved son, brother, husband, father, mentor and friend, who was known for his exotic trips to the mountains of Tibet where he drank yak milk with chieftains and monks and rode elephants through cobra-infested jungles in Burma into the Golden Triangle, was called to take his final journey from Seoul on May 12, 2016.
Kim was born in Pusan, Korea, on January 20, 1934. His initial plan was to study medicine at Harvard. That changed after he asked for and received a helping hand from the Eisenhower Administration. His delayed arrival in Athens, Ohio, nearly led to a brief and unfulfilled stay in America. He barely survived a first semester filled with a late arrival on campus, significant cultural and language barriers and homesickness. An act of kindness forever changed the direction of his life when his advisor suggested that he take one of his political science classes during the spring semester and offered his personal tutorial services to help boost the morale and confidence of a struggling student. The young Korean's love for American government and politics blossomed.
A career in medicine was now in the rearview mirror, as was the University of Ohio, where he received his B.A. in political science. His travels took him to Columbia, Missouri. He earned his M.A. in political science at the University of Missouri under the tutelage of the legendary professor Robert F. Karsch. It was Karsch who encouraged his graduate student to take a hiatus from his Ph.D. studies to spend an academic year as an instructor at his alma mater, Westminster College in Fulton, Missouri. What was expected to be a mere nine-month stay for Kim instead developed into a 37-year teaching career of distinction before his retirement in 2004.
He is survived by his wife, Nam, their three children, Michael, Patrick and Katharine, two daughters-in-law, Marleen and Hae Sun, and three grandchildren, Sydney, Kayla and Matthew.
In addition, he leaves a legacy as a pioneer and community leader. He was among the first Koreans to arrive in America in the mid-1950s. He was the first president of the University of Missouri International Students Association and was among the first Asians in the United States elected to serve on a city council.
Westminster College professor Wayne Zade said, "Peter was equally at home hosting senators, governors, poets, and musicians. I think that says a lot about him."
Another former colleague, Kurt Jefferson, said of his friend, "My recollections may seem like a fairy tale, but they are not. Peter Kim was a true hero to many of us."
He was a man who dared to dream big. Impossible dreams for some but not for Peter Kim. Now his heart can lie in peace, now laid to rest from his glorious quest.