Dr. Kali Wright-Smith to Receive 2019 Remley Award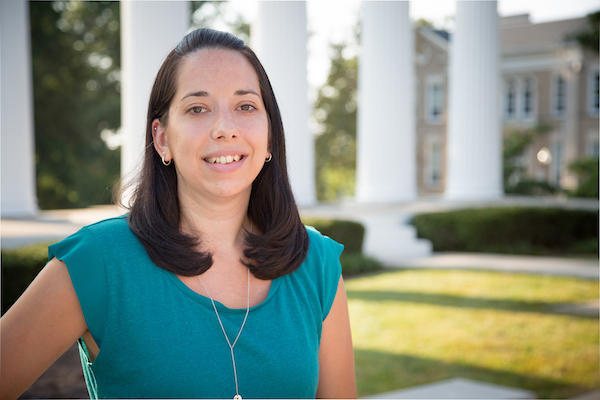 For her dedication as a champion for the women of Westminster, Dr. Kali Wright-Smith '04, Associate Professor of Political Science and Director of the First Year Experience, from Columbia, MO, has been selected to receive the 2019 Remley Women's Award on Saturday, April 13, during the College's Alumni Weekend.
The award celebrates women who emulate the spirit of Dr. Audrey Remley, the first full-time woman professor at Westminster College. Honorees champion and care for the women of Westminster, as Dr. Remley did, welcoming the first class of Westminster women in 1979.
"Kali, in every way, embodies the spirit of Audrey Remley and is working hard at carrying out her legacy by helping to promote a safe, supportive and thriving female community at Westminster College," says Dr. Cinnamon Brown, Associate Vice President for Academic Affairs and Associate Dean of Faculty. "Plus, Kali is raising an amazing future woman of Westminster as we speak!"
This academic year Dr. Wright-Smith joined Dr. Brown as Co-Advisor for the Remley Women's Center.
"But even before she came onboard at Remley, Kali has been supporting and fighting for women," says Dr. Brown.
Dr. Wright-Smith teaches courses from Human Rights to Women in Politics, which highlight the struggles of women all over the world as they fight against antiquated gender norms and other forms of oppression and violence.
She has been integral in crucial Westminster programming for International Women's Day, Sexual Assault Awareness Month and the Westminster Women's Retreat.
Outside of the College, she is a tremendous advocate for the anti-Human trafficking organizations.
A native of Festus, MO, Dr. Wright-Smith is one of five Westminster College graduates in her family. She came to the Westminster faculty in 2013 following stints as an assistant professor at Georgetown College in Kentucky and as an instructor at Purdue University.
She has received the Buschman Dean's Outstanding Junior Faculty Award and was recognized for her academic advising with the Buschman Award for Inspiring Service.
"As a Westminster alum herself, Kali is a wonderful role model for Westminster students," says Dr. Brown.
Dr. Wright-Smith will receive her award at a special Alumni Honors Convocation Ceremony to be held at 10:30 a.m. on Saturday, April 13, in the Church of St. Mary the Virgin, Aldermanbury.