Television Crew Films at Churchill Museum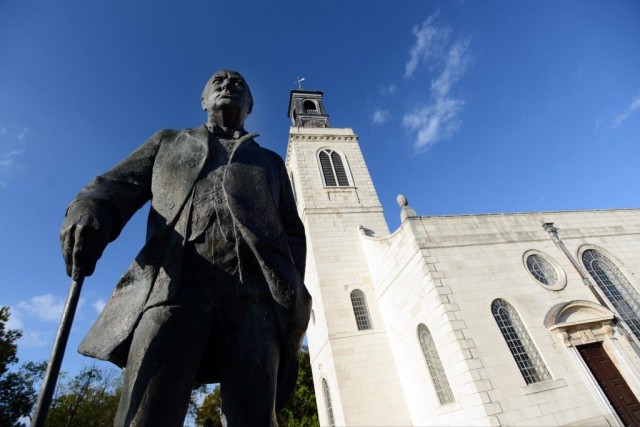 A film crew from KMOS-TV, the public television station for central Missouri located in Warrensburg, came to campus to film video of the National Churchill Museum, the Church of St. Mary the Virgin, Aldermanbury, and the "Breakthrough" sculpture on Latshaw Plaza.
Timothy Riley, Sandra L. and Monroe E. Trout Director and Chief Curator of the Museum, also did an interview as well as providing photos from Winston Churchill's historic visit to Westminster in 1946 and clips from Churchill's monumental "Iron Curtain" speech delivered here.
The film footage will be used for a half-hour television program featuring Fulton and Callaway County entitled "Missouri Life at a Glance," a television series done in partnership with KMOS and Missouri Life magazine to explore various aspects and locations of the Show-Me State. Some of the past programs have highlighted Silver Dollar City, Steelville, Boonville, Marshall, and Excelsior Springs.
Four film crew members as well as the host, Meredith Hoenes, were on campus to film the 4 ½ minute segment, which will be used in the historical Pride of Place segment of the episode.
Christy Millen, Program and Program Producer for KMOS, says the Fulton segment will air sometime between late October through December.
Those interested in viewing past episodes will find them at http://www.kmos.org/originals/missouri-life/