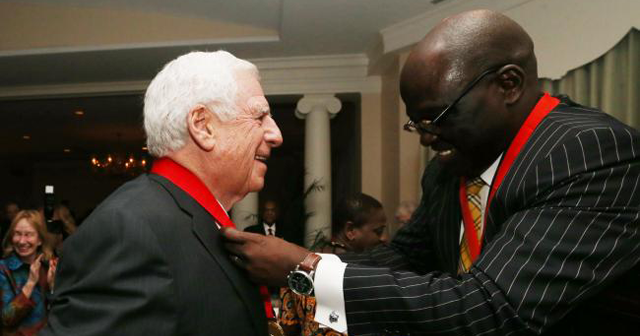 Above, Westminster College President Dr. Benjamin Akande places the Winston Churchill for Leadership award on the neck of former U.S. Senator Jack Danforth. Photo credit: Bill Greenblatt, UPI.
Former U.S. Senator and Ambassador to the United Nations John C. Danforth was awarded the Winston Churchill Leadership Medal, bestowed by the Association of Churchill Fellows, Thursday, June 8 at Bellerive Country Club in St. Louis. The Churchill Medal for Leadership is presented to civic and business leaders who exemplify those leadership qualities demonstrated by Winston Spencer Churchill. Read Sen. Danforth's acceptance remarks.
---
President Akande on the selection of Sen. Danforth as medal recipient:
Jack Danforth believes that we should all follow a call towards compromise and compassion. In fact, I submit to you that Jack Danforth not only follows that calling—he gives voice to it.

In this era of extreme partisanship, running for office has become a zero-sum game in which candidates play exclusively to their ideological bases. But, I would suggest that most Americans on both sides of the political aisle hunger for the return of a commitment to call us to the future of common good. There is a great need now in America, in Great Britain—and the world over, for a renewed commitment to the common good. It is a purpose, a powerful purpose, for which Jack Danforth has given the full measure of his energy and commitment. In fact, dare I say – Jack is the Churchill of our time.
---
Reaching a potential audience of 23,467,915 through a total of 82 traditional and web news articles, media coverage for the event stretched across the U.S. included Associated Press national distribution and stories in St. Louis Post-Dispatch/stltoday.com, American Business Journal, Washington Times, MissouriNet, and more. Below, view a sampling of the media coverage, including an interview with special guest the Rt. Hon. Lord Alan Watson, and photos from the event.
Below, McGraw Milhaven of KTRS-AM (550 AM) in St. Louis interviews Lord Alan Watson, June 9, 2017
---
Photos below, credit: Rebecca Barr, Tu Square Studio.