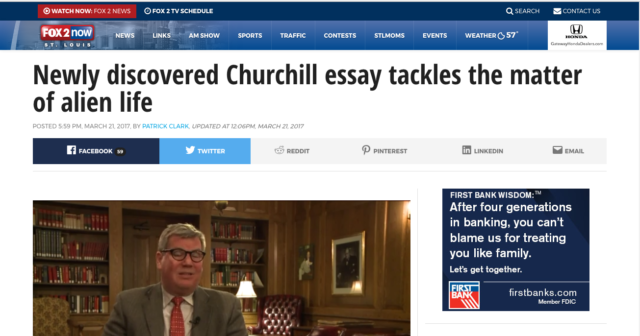 On March 21, KTVI FOX 2 News in St. Louis ran a feature segment — "Newly discovered Churchill essay tackles the matter of alien life" — on the National Churchill Museum's recent discovery of an essay by Sir Winston Churchill
The recent find in the National Churchill Museum archives has developed into an international news story that revealed Winston Churchill was clearly open to the possibility of extra-terrestrial life on other planets.
Churchill wrote the 11-page draft essay in 1939, and revised it slightly in the 1950s. It was buried among four boxes of materials that were donated some-30 years ago to the Museum, where it sat in the archives until its rediscovery last year.
The essay was found by Timothy Riley, the Sandra L. and Monroe E. Trout Director and Chief Curator of the museum, while searching for other historical materials regarding another research project.
Click here for more information.