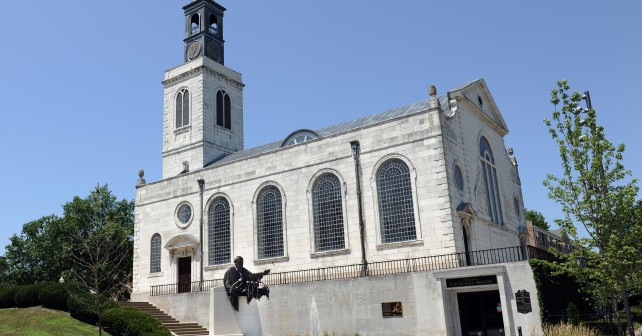 On Oct. 6, 2016, Westminster College and the National Churchill Museum celebrate the 50th anniversary of the Church of St. Mary the Virgin Aldermanbury's re-construction in Fulton.
Originally built in medieval London, it was destroyed in the Great Fire of London in 1666 and rebuilt by British architect Sir Christopher Wren. The church stood proudly in London for nearly 300 years until it was bombed in 1940 by the German Luftwafe during World War II. The church was shipped in pieces to Fulton and re-built on Westminster's campus, with the foundation stone laid in Oct. 6, 1966.
Read more about the history of the church here, plus enjoy these five facts below.
Noel Mander, who built the tracker organ in the church, was a fire warden in London during WWII. Mander was on duty in December 29, 1940 — the night German bombers dropped incendiary bombs over London, gutting St. Mary the Virgin Aldermanbury.
Every two years, the Robinett Family Association gathers at Westminster College to commemorate the September 29, 1653 marriage at St. Mary the Virgin, Aldermanbury between Allen Robinett and Margaret Symm. Today, the Robinett Family includes more than 400 members in the United States, including Vice President Joseph Robinette Biden.
Before rebuilding over 50 churches after the Great Fire of London in 1666, including St. Mary the Virgin, Aldermanbury, architect Sir Christopher Wren was a notable anatomist, astronomer, and mathematician-physicist.
The steps that lead to the bell tower are from the original 12

th

-century church. Before the Great Fire of London in 1666, the stairs descended into the Church's crypt. 

William Shakespeare and John Milton have strong connections to the Church of St. Mary. John Hemmings and Henry Condell, who were actors and published Shakespeare's first folio, were officers of St. Mary. In London, Shakespeare lived a block away from the Church. John Milton's second wife was a member of the church at the time of their wedding.