Westminster College Students Spend Saturday Working In Fulton Brick District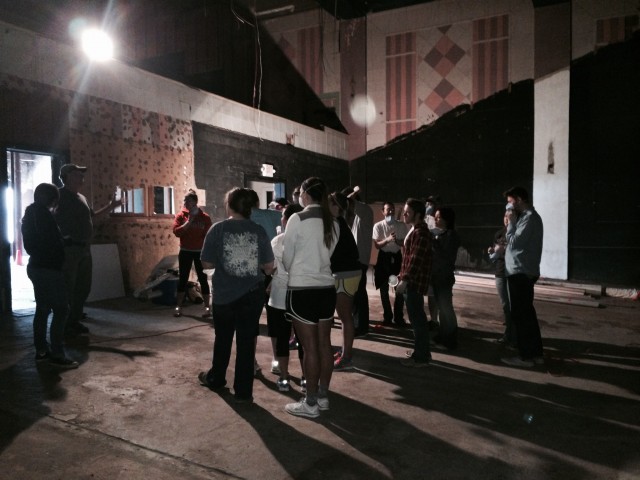 Twenty-four Westminster College students spent last Saturday cleaning up the old Fulton Theatre to prepare the way for a new Brick District Playhouse to open downtown.
They moved pieces up and down stairs, hoisted pianos onto the stage and did general cleaning up and sweeping.
Westminster should be so proud of these students," says Debbie LaRue, Vice President of the Brick District Playhouse Board.  "They came in with a 'can do' attitude that day and accomplished a great deal.  This is just one of the many ways our Westminster students make a positive impact on our community."
Westminster sponsors for the day of service were the Service Corps and Kappa Kappa Gamma sorority.
Westminster students, faculty and staff perform over 10,000 hours of community service every year.
Built in 1927, the Fulton Theatre still contains such unique features as an orchestra pit, pipe organs and an open balcony.
In 2005, B & B Theatres, the owner of the facility, donated the structure to the city.  Since that time several community groups have worked to raise funds to fulfill the vision of opening a new downtown theatre.  This January the Brick District Board voted to take over the restoration project.
Currently stage one of the renovation is taking place.  Volunteers are clearing out unnecessary items, tearing out everything that is not part of the original architecture such as some inner walls and working to get the facility "re-lit."
Stage two will be to raise funds and finalize plans for what shape the new Brick District Playhouse will take.
"Many of us grew up with this theatre and have so many good memories that it has inspired us to bring it back to life," says LaRue.  "We believe renovating the theatre will bring more people to the restaurants and shops of Fulton and make it possible for our children to find similar fond memories at this downtown treasure."