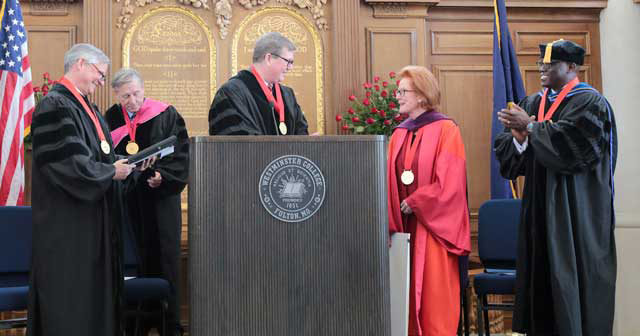 Comments by President Benjamin Ola. Akande, Churchill Weekend, April 1, 2017
Church of St. Mary the Virgin Aldermanbury, Fulton, MO

Faculty, staff, students, alumni, friends and community members, Churchill Fellows, I am pleased to welcome you to this gathering today. And it is a great honor to welcome our special guests, Pulitzer Prize winner, Jon Meacham and retired General and former CIA Director, David Petraeus.
We stand here, in this sacred and storied place, to celebrate—as we have done annually for nearly fifty years—the life and legacy of Sir Winston Churchill and his long, lasting, and continuing connection to Westminster College.
71 years ago, Winston Churchill and President Harry S. Truman, arrived at Westminster, a place that the president famously referred to as "a wonderful school in my home state." While Churchill's visit to Westminster was brief—less than 24 hours—the message he delivered from here to the world, in what is famously referred to as the 'Iron Curtain' speech – has become one of the most significant leadership lessons of all time. Churchill's words inspired us then and even more so today to remain steadfast and vigilant in the face of adversity.
71 years may seem to be a long time, but it is still a living memory to a few individuals who are among us today.
Here with us are two men who were witnesses to Winston Churchill's monumental address on March 5, 1946, Westminster alumnus, Baxter Watson, and a prince of a man, Earle Harbison. Baxter and Earle, I ask that you stand and be recognized.
The decision to invite Winston Churchill to America's heartland was bold and ambitious, but so, too, was Churchill's charge to the world in the celebrated 'Iron Curtain' speech. At the time, no one—with the possible exception of Churchill himself—could foresee the profound impact the speech would have on the course of world events. Churchill's deeds and words were infectious and in the aftermath of his powerful oration, Westminster found the courage of its conviction.
Indeed, it was an ambitious, and bold act, to create a permanent memorial and museum honoring Churchill by relocating—from London to Fulton—this magnificent Christopher Wren-designed Church of St. Mary the Virgin Aldermanbury.
When this church was re-dedicated and the museum was established in 1969, Westminster College began the practice of recognizing and honoring individuals who demonstrate extraordinary efforts to uphold this hallowed place and preserve Churchill's legacy of leading from where you are.
The men and women whom we have been honored since, constitute the Association of Churchill Fellows of Westminster College: an illustrious group that counts amongst its 298 members, individuals who have and continue to dedicate their lives and livelihood to overcome those seemingly insurmountable challenges we face here in America and around the world.
Past Churchill Fellows include: President Dwight Eisenhower, Walter Cronkite, Margaret Thatcher, J.C. Penny, Sir David Cannadine, Lady Mary Soames, Richard Mahoney, Edwina Sandys, Monroe Trout, and Kit Bond, just to mention a few. I know that Kit Bond, Edwina, Dick Mahoney, Jean-Paul Montupet, Bob Muehlhauser and other distinguished Churchill Fellows are with us today. I ask that all Churchill Fellows stand and be recognized.
Churchill Fellows of Westminster College are ambassadors of Churchill's legacy and all of us here are grateful for their continued good work, and leadership.
Vision. Resilience. Boldness. These are qualities of Winston Churchill's leadership that we hold dear at Westminster College.
In short, we ask those who teach and learn here at Westminster to go forth to change the world-or perhaps even save it. That is our mission and our purpose, our promise.
It is from this historic place, then and even now, that we learn lessons from our past so that we may not repeat the same mistakes over and over again.
But even today, we continue to face the 'Iron Curtain' of intolerance, and we grapple with looming threats and stormy clouds of extremism that impede our journey toward Churchill's "broad sunlit uplands."
However, gatherings like this one instill in us our collective determination to move from hopelessness to a brighter future that we will create for ourselves – and surely for others.
Today, we will hear from two remarkable speakers who will share perspectives on what leadership looks like and what leaders can do to enable the journey from success to significance. Both of our speakers are recognized for their visionary thinking. Both are students of history. They have shared and applied the lessons of the past to create a path forward along the "highroads of the future," to borrow a phrase used by Churchill as he closed his speech here seven decades ago. I am delighted that Jon Meacham and General David Petraeus are with us today to inform, challenge and inspire us.
Finally, it is my great honor to welcome back to Fulton another inspiring, bold, historically-minded, and talented force of nature:
A Churchill Fellow of Westminster College, artist, author and friend, a Churchillian by birth and in deeds – Edwina Sandys, even when you are far away from Fulton, we feel that a part of you is always with us because of your monumental sculpture, Breakthrough, comprised of sections of the Berlin wall, here since 1990, which has become a major part of our campus.
I see that our museum has lent you our replica of the scarlet Oxford robe that your grandfather wore when he was here. I won't be the first to say it, but you look resplendent.
Edwina, your work—along with your grandfather's legacy—reminds us: that of all the lessons history teaches, the most valuable take away is that freedom requires perseverance and steadfastness in the face of adversity. Edwina, thank you for serving as the Senior Fellow for today's installation ceremony. Ladies and gentleman, I present to you Churchill Fellow, and devoted Churchillian, Edwina Sandys.