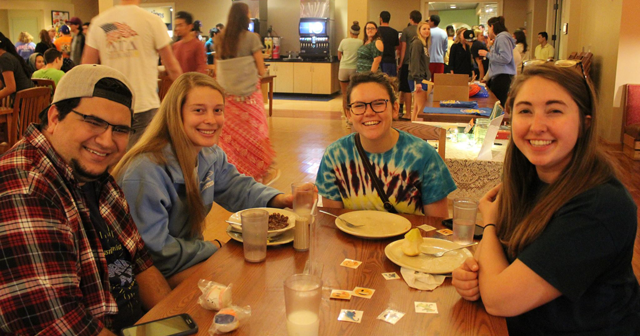 Above, students enjoy Late Night Breakfast, a finals week tradition at Westminster, during Spring Semester 2017. The event is organized each semester by the Office of Student Life.
It is with great pleasure that I announce the formation of a Search Committee for Westminster's new Vice President and Dean of Student Life.  This leadership position plays a vital role in serving Westminster students—responding to their needs and concerns, dealing with problems, coordinating programs, and enhancing the student experience to make it a satisfying and successful one.
Thus in conducting a search for a new Dean of Student Life, I felt it imperative that the Search Committee be composed of a well-balanced representation of the individuals who interact with the Dean of Student Life regularly and who are critical to a successful student experience.
The members of the Vice President and Dean of Student Life Search Committee are:
Associate Vice President and Associate Dean of Faculty Dr.  David Jones, Chair;
Board of Trustees Member Major General (ret.) Byron Bagby, '78;
Associate Professor of History Dr. Cinnamon Brown;
College Chaplain Rev. Jamie Haskins;
Senior Class Member Rupa Kumari
Registrar Phyllis Masek;
Director of Institutional Research Sara Parsons;
Associate Vice President for Human Resources Jackie Plunkett;
Senior Class Member Carson Pope; and
Enrollment Partnership Coordinator Kelle Silvey
I want to thank the members of this Committee for agreeing to take on this important task on behalf of the College.  I am confident they will identify the kind of high quality candidates who would be an excellent fit for our Westminster community.
Special thanks to Dan Haslag, our new Vice President of Campus Operations, for serving as interim Vice President and Dean of Student Life over this past year.
Benjamin Ola. Akande
President