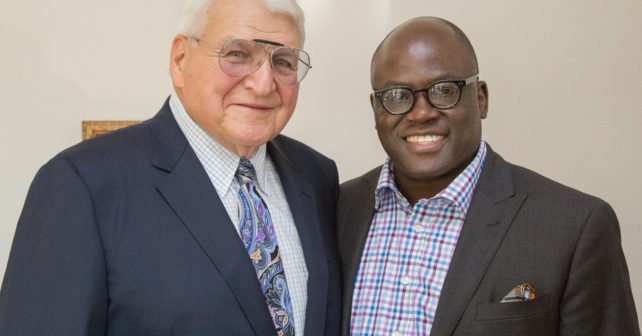 The Westminster College Board of Trustees unanimously elected John M. Panettiere '59 and a member of Phi Delta Theta, as its next Chairman. As Executive Committee Chair, John will be joined by three Vice Chairs: Dr. Bruce K. Brookby '68 and a member of Sigma Alpha Epsilon; William D. Felder '80 and  a member of Delta Tau Delta; and Donald P. Lofe, Jr. '79. All appointments are effective July 1, 2017. See the news release announcing these important appointments here.
A Message from President Akande
I first met John in September, 2015 right after I became president. With respect and admiration, I realized he had led three Fortune 500 companies during his 43-year business career. Yet he had still found time to support Westminster significantly and had served on our Board of Trustees from 1996 to 2011. He and his wife Wanda had given generously to Westminster and established the John M. and Wanda Ann Panettiere Endowed Scholarship Program. In 2014, they were inducted into our Leadership Society for donating at least one million dollars during their lifetime.
In return, a grateful Westminster has bestowed upon John its highest honors—an Alumni Achievement Award (1984), an honorary degree (1993), and a Churchill Fellowship (1994).
When John agreed to re-join the Board of Trustees last year, his visionary ideas became clear. John believes that Westminster must adjust to the changing dynamics of higher education if it is to remain relevant for our students and for the communities we serve.
John represents the very best of the Blue Jay Nation. He set out to change the world and he did – while faithfully serving Westminster College in many ways. Now he has returned to his Alma Mater to serve in its highest role.
My sincere gratitude goes to current Chairman, Harold B. Oakley, who served a full term as Chair and during his tenure, he strengthened the College's capacity to continue its noble mission. Hal's stewardship and dedication to Westminster will have long-term impact on the viability of the College.
Please help me welcome John as our new Board Chairman.
Benjamin Ola. Akande
President