New Remley R.E.S.T. Center on Campus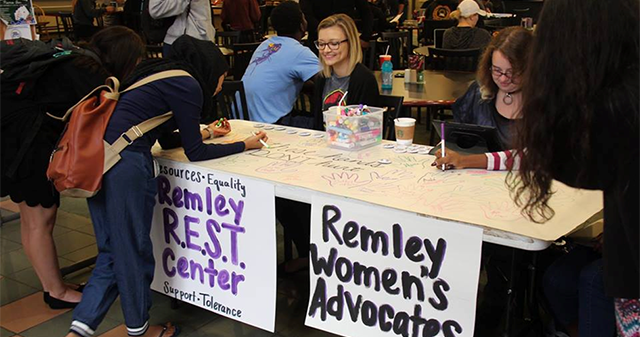 This year Westminster College introduced its new Remley R.E.S.T. Center on campus, which can be found located in JCI in Hunter Activity Center (near the pool tables).
Standing for Resources, Equality, Support, and Tolerance, the R.E.S.T. Center provides a resource center that houses and supports groups associated with women/gender issues on campus. The new center evolved from the Remley theme house program which ended earlier this year.
R.E.S.T. Center support for students and campus groups includes verbal information, brochures, and books regarding consent, sexual assault, etc. The R.E.S.T. Center also provides free condoms and other safe sex devices.
"For me this is a dream come true," says Dr. Brown. "It is great to have an office where we can provide support but also do programming with great organizations such as the Remley Women Advocates, M.A.R.S. and Alliance."
Remley Women Advocates have been trained to be first responders in the case of any sexual misconduct policy violation. Students will find the center as a safe space they can go if they need an advocate or just someone to listen. To help fulfill this mission, the R.E.S.T. Center houses several campus organizations including M.A.R.S. (Men Against Rape and Sexual Assault), Alliance, and the new Remley Women Advocates (former Remley theme house members). The R.E.S.T. Center will function as the umbrella under which these individual organizations will operate and serve our campus community.
If students have questions regarding R.E.S.T., please feel free to contact Remley advisers Dr. Kasi Lacey and Dr. Cinnamon Brown at their campus emails.