Making Lives Better: Update on Westminster's Nepali Earthquake Relief Efforts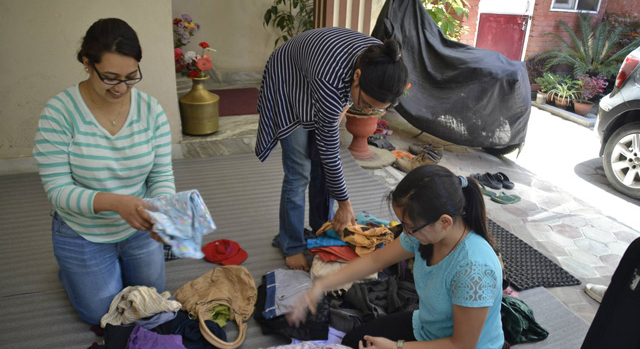 To give you an update of what is happening with the funds and the donations we collected after the earthquake disaster that occurred in Nepal in May …
We were able to collect a total of $7865 in monetary donations through the online fund website, cash and checks. This includes the amount of $2640 raised through annual Dine for Nepal this year.
This money is being used to give relief materials and supplies to affected places outside Kathmandu Valley. We are also working with an organization Women Peace and Democracy (WPD-Nepal) to build temporary homes for low income population in Kuwapani, Sindhupalchowk (one of the most affected areas) so that they have a place to stay until they have enough resources and stability to start their own house.
We were able to send to Nepal some of the material donations (including clothes and medical supplies) collected at the end of the academic year, which have been distributed to the village people. We still have some donation materials that are yet to be sent.
For updates on what Westminster students in Nepal have been working on, you can visit or 'like' the "Westminster College: Making Lives Better" page on Facebook.
We thank you for all your support, thoughts and prayers in this difficult history of Nepal. The situation is getting better with fewer aftershocks and more people willing to work for rebuilding the country. We realize that the country as well as the whole world is coming together for help. We want to thank all the staff and faculty and students for all they have contributed.
Also, we would like to thank these specific institutions for their big donations and great help in rebuilding Nepal: Kappa Kappa Gamma, The Wellness Center, The Marketing Department, Bank Star One, Fulton Sub Shop, The Friendship Family Program members, and faculty, staff, students of Westminster College.
We aim to be as transparent as possible in the process of using these funds, and if you have questions about specific details, please let us know.
Thank you very much,
On behalf of all Nepali students at Westminster College
---
Feature photo above, Sneha Bhandari '13 (left) helps with the relief effort. On Sunday, June 7, Making Lives Better organized relief events in Kuwapani village and Gahate village of Sindhupalchowk with the help of WPD Nepal. Photo credit: Rohit Singh Bhandari.