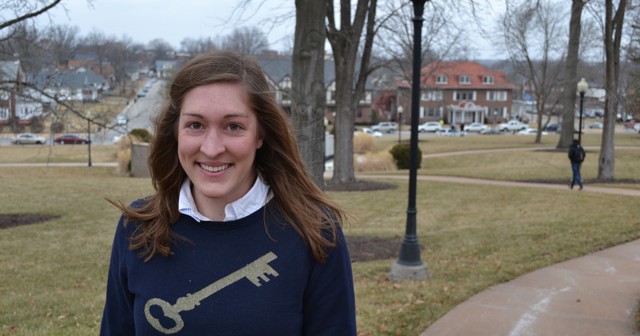 Westminster College is pleased to announce that Lindsey Dennis, Class of 2015, has been selected by the Board of Trustees as Young Trustee for 2015-16. Her term will officially begin on July 1, 2015.
An early childhood and elementary education major, Dennis is a member of the Skulls of Seven, the Order of Omega Honor Society (representing the top 5 percent of Greek leaders on campus), Kappa Delta Pi (education honor society), and the Honor Commission. She is the current president of Student Ambassadors and was a member of the Blue Jays soccer team during her freshman and sophomore years at Westminster. A native of Little Rock, AR, she is also a member of Kappa Kappa Gamma and has served in a number of leadership roles in the sorority. In addition, she has served the College as a seminar mentor and through the Christian Leadership Council.
"Westminster is fortunate to have many accomplished students, but I believe Lindsey stands out for the wide variety of roles and services she performs," Dr. Bob Cowles, Associate Professor of Education, shared in a letter of support for Dennis's Young Trustee nomination. "I have known Lindsey for the past three years as a professor and advisor. During that time, I have been impressed by her genuine concern for others, her commitment to excellence, and her willingness to lead."
Kristen (Leone) Jackson '06 first met Dennis when she visited the campus as part of her college search. Later, Jackson had the opportunity to work with her when Dennis served as a student representative on the Alumni Council for two years.
"Westminster's continued success depends on the dedicated support of talented and enthusiastic alumni," Jackson said in her letter of support for Dennis. "Lindsey has exhibited enthusiasm and dedication to improving the College from the first day she set foot on campus."
The Young Trustee serves for a two-year term and is an ex-officio member of the Board of Trustees' student life committee, enrollment committee, and such other committees as the Board Chair may determine. Nominated as a graduating senior, the Young Trustee will work with other Board of Trustees to support the College, staying active in the Westminster community and sharing the perspective of our recently newest alumni.
The selection process for next year's Young Trustee will begin in the fall of 2015, and the entire campus community will be invited to nominate deserving students from the Class of 2016 for the honor. Nominated students will be notified and encouraged to submit a formal application for review by the President of the College. From a narrowed pool of three finalists, the Board of Trustees will select the next Young Trustee.
Congratulations to Lindsey, and thank you to all who made nominations.