Greek chapters, student organization team up to fight sexual assault, domestic violence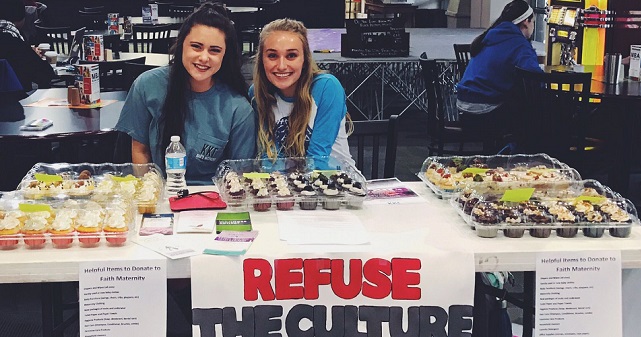 Members of Kappa Kappa Gamma run the first day of the fundraising bake sale, with a poster that reads, "Refuse the culture of silence." Photo courtesy of KKG at Westminster College.
Three of Westminster's student organizations are partnering to raise awareness of domestic violence and sexual assault. Delta Tau Delta and Kappa Kappa Gamma have organized a joint fundraiser and lecture event with Pre-Healthcare Professionals this week on Westminster's campus.
From 9 am to 5 pm each day this week, members of the three organizations will host a bake sale in JCI. All proceeds from the bake sale will be donated to Faith Maternity Care in Fulton. Donations of infant care and women's hygiene products will be collected at the bake sale and given to Faith Maternity Care to aid the center's residents.
A lecture will be held at 6 pm on Wednesday, March 15, in the CSC Lecture Hall to educate Westminster students about how to prevent domestic violence and sexual assault. Two speakers will take part in the lecture event. Dr. Melissa Terry is an OB/GYN with Missouri OB/GYN associates and assistant professor of clinical obstetrics and gynecology at the University of Missouri-Columbia. Melissa Williford is the community outreach coordinator at Faith Maternity Care.
Faith Maternity Care (FMC) is a nonprofit, faith-based organization providing life skills training to young women struggling with the burdens of pregnancy and motherhood. FMC has both residential and non-residential programs to assist mothers with pre-natal and post-natal care.