A Week Full of Presidential Inauguration Festivities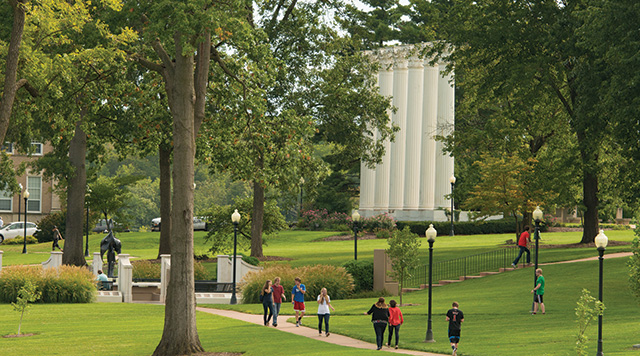 Students and campus community – get involved all week long as we prepare to celebrate President Akande's Inauguration.
Blue Jay Spirit Celebration
Monday, October 26 12:00 P.M.
Historic Gym
Join campus for a pep rally to celebrate President Akande and our pride in Westminster College!  Sponsored by SAAC and Westminster Athletics.
Lunch with the 1st Family
Tuesday, October 27
Have lunch in the dining hall – served by the 1st family!
Spotlight on the 1st Family
Tuesday, October 27 4:00 PM
Hermann Lounge
Get to know President Akande and his family.  Light refreshments will be served. Sponsored by Student Government Association.
Diversity Dialogues Lunch & Learn featuring President Akande
Wednesday, October 28 12:00 P.M.
Marsh/Jones Room
Enjoy a Nigerian-themed meal and hear remarks from President Akande. Sponsored by the Diversity Center and Student Government Association.
Wall of Well-Wishes
Thursday, October 29
Day-long activity across campus
Write your well-wishes to President Akande on a wall which will be displayed during Inauguration Weekend.  Sections of the wall will be in various locations across campus.  Sponsored by the Student Ambassadors.
Choir Concert
Friday, October 30, 2015, 7:30 p.m.
718 Court Street
Enjoy a special "Soul Songs" performance by the Churchill Singers.
Inauguration Day
Saturday, October 31, 2015
Inaugural Church Service
Church of St. Mary the Virgin, Aldermanbury, 10 a.m.
Inaugural Luncheon
Backer Dining Room, Mueller Leadership Hall, 11:30 a.m. – 1 p.m.
Presidential Installation
Champ Auditorium, 2 p.m. (doors open at 1)
Inaugural Community Celebration, sponsored by Callaway Bank
Backer Dining Room, Mueller Leadership Hall