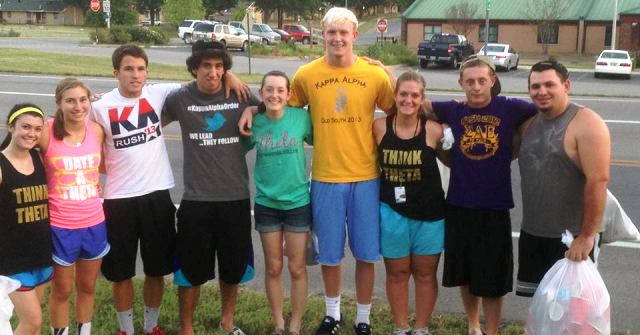 Above, representatives from Westminster's fraternities and sororities gathered to serve the community during Greek Week, spring 2014.

On January 19th, Westminster College Greek Life hosted a Greek leadership workshop for all Westminster fraternities and sororities. According to organizer Assistant Director of Greek Life & Recreation Services Nicole Elliott-Bartley, the goals for the workshop were to educate Westminster 's newly elected Greek officers and members on community and campus resources available to them, to help each chapter be successful, and to help the Greek community contribute to a positive campus environment.
"Leave Your Legacy"
The workshop's keynote speaker, Neil Stanglein is a founding father of Lambda Chi Alpha chapter at the University of Missouri, where he graduated with his master's degree in education with an emphasis in student affairs leadership. He previously worked as the coordinator of Fraternity & Sorority Life at Virginia Commonwealth University. Stanglein continues to present and facilitate Greek workshops around the nation, where he challenges fraternity and sorority members to be the best they can be.
Stanglein's presentation, "Leave Your Legacy," touched on how current news and events in the fraternity and sorority world are not great, but also how now is not the time to lose hope. He believes current fraternity men and sorority women have the public eye on them and that the best way to deal with that kind of pressure is to live up to the values their founders set forth for them.
Stanglein also spoke on the importance of empowering the silent leaders of Greek chapters. According to Stanglein, one of the greatest things chapter leaders can do is seek out those who do great things and ask them to inspire others to do the same.  Also, it is important to be prideful in Greek organizations enough to support other chapters as Interfraternity and Panhellenic communities.
Other guest facilitators at the conference included Dr. Erika Michalski, who has nearly a decade of experience working with student leadership development, and Brittany Wells, a leadership consultant with Alpha Gamma Delta.
Accountability, Values, and Action
"Through the workshop I learned a lot about holding my sisters accountable," says Megan Fitzpatrick '16, Chief Executive Officer of Kappa Alpha Theta-Epsilon Lota. "It's a really important aspect of sisterhood that I think sometimes gets overlooked. The idea of accountability is something I really want to instill in the members of my chapter."
The workshop also helped inspire Westminster's Greek leaders to evaluate their chapters with a critical eye for improvement.
"I learned that it's not just me looking critically at the practices and behaviors of my fraternity and brothers; the school and the community are also looking at us as well," says John York '16, President of Phi Delta Theta-Missouri Beta. "It makes me feel good that they are looking out for us, but it also lights a fire underneath me to make sure we are living out our fraternity's values through our actions and not just our words."
"This workshop taught me better ways to recognize members of my chapter that could possibly be a liability," says Carson Butts '16, President of Beta Theta Pi-Alpha Delta. "It also taught me how to better address the problem before the active has the chance to make a decision that reflects poorly on the chapter."
Moving Forward
Elliott-Bartley was pleased with the event's turnout and participation that encompassed all fraternity and sorority chapters on the Westminster campus. Both Greek leaders and members have been better provided with the knowledge and tools they need to be successful now and in the future.
"I hope this workshop opened some windows of opportunity that Greek officers or members may not have known they had here at Westminster or in the Fulton community before," says Elliott-Bartley. "I'm excited and hopeful to see the chapter and community goals that were set at this workshop become a reality."
Fitzpatrick believes that the workshop will have a positive effect on the Greek community.
"The Greek Life office gave us an opportunity to learn and grow as a Greek community, and it's up to each chapter to take what we learned and put it into action," she says.