Churchill Singers Perform Free Concert of Redemption Songs on Nov. 3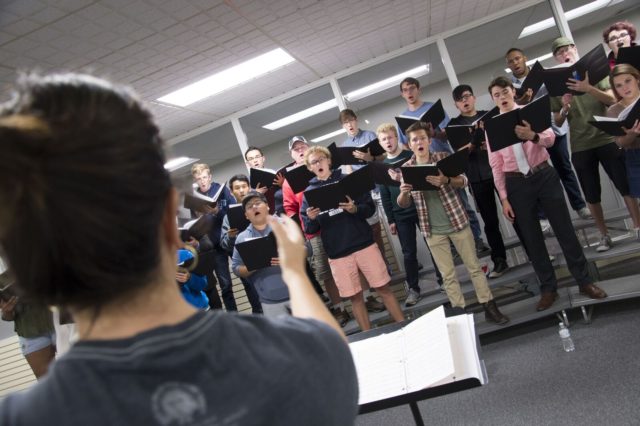 The Churchill Singers, Westminster College's premiere choral ensemble, will present a concert Friday night, November 3, at 7 p.m. in the Church of St. Mary the Virgin, Aldermanbury.
The concert is a collection of what Dr. Natasia Sexton, Associate Professor of Music, has called "Redemption Songs." Latin motets from the church are programmed alongside Broadway ballads and pop classics, but the music is inextricably connected by the various ways we experience grace in our lives.
"The program includes more sacred texts than what I typically use, but they are appropriate here because most people think about the New Testament when they encounter the word redemption," Dr. Sexton explains. "However, this program also includes deeply moving and thought-provoking secular texts that suggest grace and redemption are found in art, people, ideas and communities."
Dr. Sexton, who is in her ninth year as the conductor of the Churchill Singers, suggests that the upcoming concert has been one of the most meaningful to prepare in terms of repertoire, meaning, and the focus that the student singers bring to rehearsals. In explanation she says, "I've been conducting choirs for over 25 years, and it's rare to experience truly beautiful music that is so flush with meaning and to do it with singers who are as fully committed as these students are."
Preparing for this concert brightens my mood every day that we are able to gather and sing these songs," says Hannah Parker, '20, a Churchill Singer from Ozark, Missouri. "This has been my favorite group of songs yet because they are all so uplifting. For three hours a week, I am able to forget about all the hatred in the world and focus on singing songs that will hopefully impact someone else as they have done me."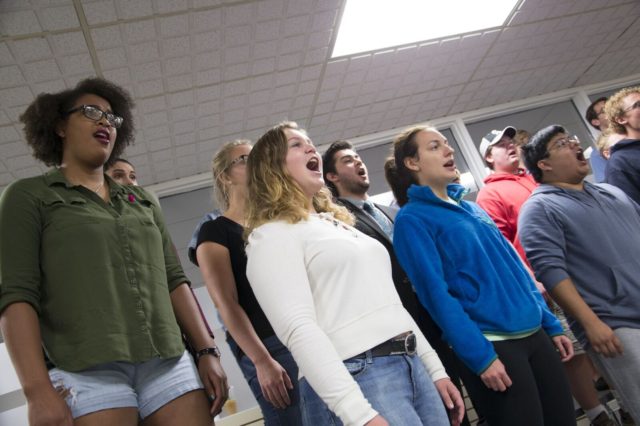 The concert opens with Patrick Doyle's "Non Nobis, Domine" that he composed for the 1989 film Henry V, and it will feature organist Gretchen Huedepohl playing the Noel Mander tracker organ in St. Mary's.
On the heels of this colossal motet will be an intimate "Kyrie Eleison" by the Venetian Baroque composer Antonio Lotti. The two motets draw from the New Testament and emphasize humility as a critical component of grace, and they are followed by a rousing gospel composed by Quincy Jones and Andrae Crouch for the movie The Color Purple. Sung by the character Shug Avery in the movie, "Maybe God Is Trying to Tell You Something" underscores the role of a Living God who calls his people to grace and salvation.
Following these opening pieces, the music explores grace and redemption through a secular lens. The Broadway ballad "Corner of the Sky" hints that one comes to grace through community and place while an ethereal arrangement of the Annie Lennox classic "1000 Beautiful Things" proposes that we come to a state of grace by being present in the moment.
The concert concludes with a capacious chorus from the cantata Remembering Matthew Shephard. It is an exuberant work that takes the horrific hate crime slaying of Matthew Shephard as its point of departure but transforms that hate into pure light and love.
"I hope that my friends and family take away a better sense of the power of music," Jamey Lemon, '19, Churchill Singer from Columbia, Missouri, says about the concert. "There are some things that can only be communicated through music, and these songs communicate deep meanings with the potential to ignite something powerful within the hearts of those who attend this concert."
The concert is free and open to the public.