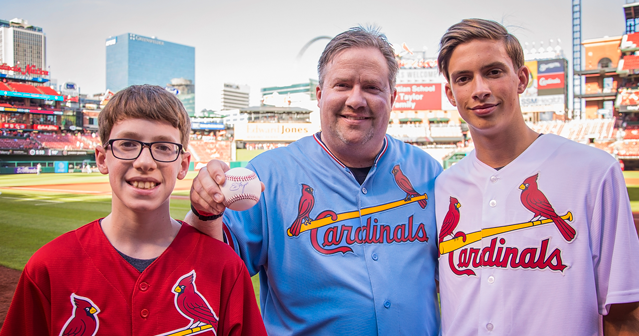 Above, Ryan Price '93 (Beta) (with sons Andrew and Hudson) displays an autographed baseball. Price threw out the first pitch on behalf of Westminster on June 15.
Westminster's largest annual alumni event, Westminster Night at Busch Stadium, brought the Westminster community to cheer on the St. Louis Cardinals in a game against the Milwaukee Brewers on Thursday, June 15.
---
Alumnus Ryan Price '93 (Beta Theta Pi) threw out the first pitch on behalf of Westminster. See photos below. From Westlake, LA, Price works for Dunham-Price Inc. and is a member of a Westminster legacy family — Price is the son of Rob Price Jr. '65 (Beta), and his brother Rob Price III '89 (Beta) also attended Westminster.
---
Thank you to the following alumni and partners for making this event possible!
Derek Duncan '07 and USI
Don Norrenberns '80
Brock Ayers '82
Rob Fasoldt '98
Westminster Investment Club
St. Louis Regional Chapter
---
Congratulations to Beth Ehrhdart '16 (Kappa Alpha Theta), the winner of this year's raffle. Beth will receive four infield box seats and four champion club all-inclusive passes to a mutually agreed upon home game.
---
See photos from the event below.