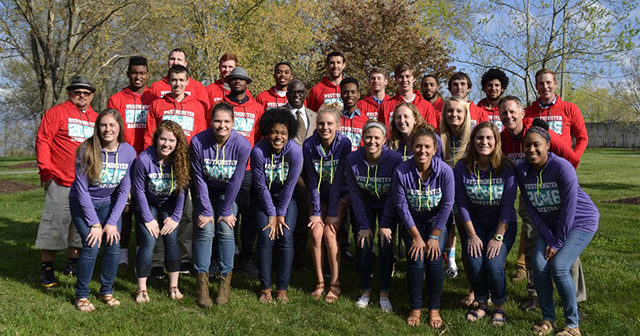 On Friday, April 15, President Akande and his wife Bola hosted a reception for the Westminster men's and women's basketball at their home.
"We are proud of the academic and athletic accomplishments of our student-athletes – leaders on and off the court," said President Akande.
During the 2015-16 season, the men's basketball team earned the title of SLIAC Tournament champions and a spot in the NCAA Division III tournament. Sophomore Nick Carlos was named the SLIAC tournament MVP, and sophomore Jimmy Villalobos was named to the all-tournament team.
The Westminster women's basketball team earned the  the 2016 St. Louis Intercollegiate Athletic Conference (SLIAC) Champions, and eight players were named to the SLIAC winter all-academic team. Coach Tracy Braden was named SLIAC Coach of the Year.