Women's Soccer Ends In 1-1 Draw With Greenville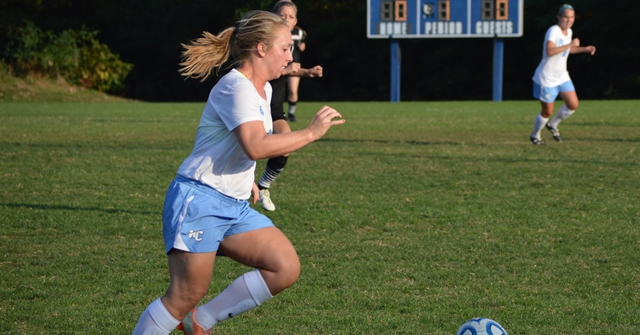 The Westminster women's soccer team ended in their first tie of the season with Greenville College Saturday evening. The 1-1 draw brings the Westminster Blue Jays to 1-0-1 in conference and 4-4-1 on the season.
Greenville scored in the 34th minute to take a 1-0 lead, but a goal by junior Eileen Koppy off a pass from junior Grace Sanford in the 44th minute knotted the game at 1-1.
The second half was scoreless, sending the game into overtime. Both overtimes remained scoreless, ending the game with a 1-1 draw.
The Blue Jays took three shots on goal, with junior Monica Bittner taking two of the shots.
Sophomore Ellen Woolsey was in goal for the 110 minutes and saved seven balls.
The Blue Jays return to the field on October 11 as they host Eureka College at 5:00 p.m.