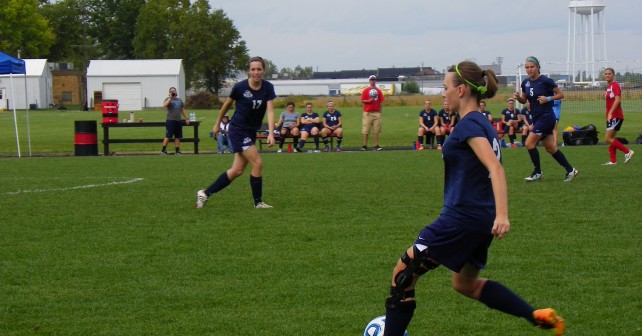 The Westminster women's soccer team finalized the 2013 season with a 2-1 win over Eureka College on Saturday afternoon.
Tayisah Pohtos (Ousley) scored the first goal of the game off a deflection from Manyima Njie in the 24th minute. The Blue Jays took seven more shots on goal, but were unable to find the net again in the first half.
Eureka had a breakaway down the left side of the field that resulted in a game-tying goal in the 74th minute of the game, but freshman Adrienne Ebersole scored her second goal of the season in the 81st minute to take back the lead. Ebersole's goal later became the game winning goal.
The Blue Jays took a total of 13 shots on goal, including the two goals. Freshman goalkeeper Ellen Woolsey finished the game with two saves.
The Blue Jays end the season with a 6-12-1 overall record and a 4-5 St. Louis Intercollegiate Athletic Conference (SLIAC) record. They finished sixth in the SLIAC, with the top four teams advancing to the SLIAC Tournament.