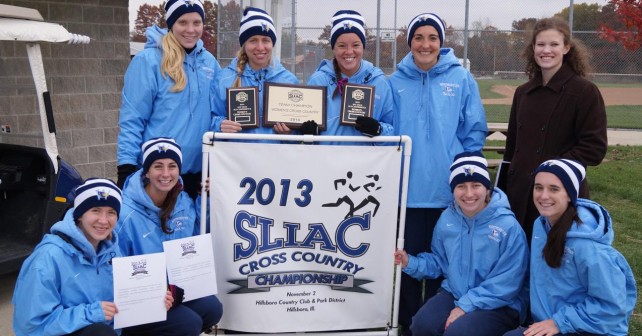 The Westminster men's and women's cross country teams competed in the 2013 St. Louis Intercollegiate Athletic Conference Championship Saturday morning. The women's team owned the 6K race, finishing in first by a landslide. They tallied 47 points, with the next lowest point total of 75, and averaged a 23:39.97 race. The men's team took fourth place, averaging a 26:47.16 8K. Head Coach Jim Marshall was named SLIAC Women's Coach of the Year.
Senior Sarah Koestner crossed the line first for the Blue Jays, finishing fourth in the race with a 22:51.81 time. Three other Blue Jays finished in the top 10. Senior Sarah Ogar finished sixth with a 23:21.66 time. Sophomore Brier Skogsberg and freshman Lily Willis placed ninth (23:43.38) and tenth (23:46.50), respectively. Following Willis was: Claire Gibby (18th /24:36.48), Rachel Bade (19th /24:39.89), Danielle Smulczenski (27th /25:43.03) and Tiara Pettijohn (29th /25:46.16).
Koestner and Ogar were named to the SLIAC All-Conference First Team and Skogsberg and Willis were named to the All-Conference Second Team.
Sophomore Jesse Edwards and senior Matt Borst finished in the top 10 for the men's cross country team. Edwards placed 6th with a 25:48.80 and Borst finished just seconds later, placing 8th with a 25:55.43 time. Junior Will Megl crossed the finish line next for the Blue Jays, placing 14th with a 26:40.78 time. Following Megl was: Daniel Lindaman (16th /28:48.79), Nathan Fox (29th /28:41.97), Connor Greene (30th /28:50.26), Ryan Dyer (35th /30:22.60) and Spencer Woodford (35:29.26).
For the men's team, Edwards was named to the All-Conference First Team and Borst was named to the All-Conference Second Team.
The Blue Jays will head to the NCAA Regionals in two weeks, November 16, in Rock Island, Illinois. The race will start at 11:00 a.m.
-For the video of today's women's race and interviews, click HERE
-For the video of today's men's race and interviews click HERE
-For complete women's results, click HERE
-For complete men's results, click HERE