Women's Basketball Shuts Down MacMurray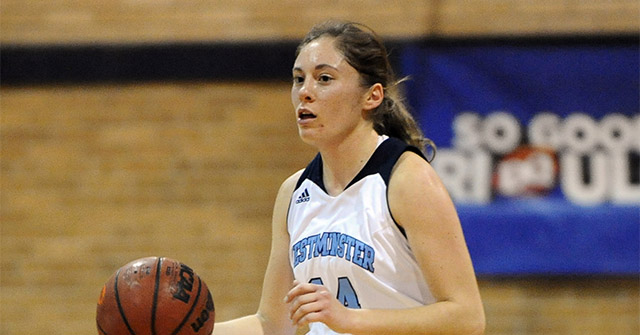 The Westminster women's basketball team returned to the court and shut down MacMurray College, 86-50. The 36 point win brings the Westminster Blue Jays to 3-1 in conference play and 3-5 overall.
"We've been working really hard this past week, and I believe the ladies can see the payoff," stated Head Coach Tracey Braden. "We had several key contributors throughout this game. I think it will prove to make us a deeper team."
Four minutes into the game, sophomore Krista Armontrout scored a layup to spark a 7-0 run to take a 10 point lead, 16-6.  The MacMurray Highlanders hit two jump shots to put the game at 22-10.
The Blue Jays put up 21 points over the next seven minutes while holding the Highlanders to just one point to bring the score to 43-11. MacMurray outscored the Blue Jays 9-4 in the final three and a half minutes in the first half to put the game at 47-20.
Throughout the second half, the Blue Jays extended their lead to 30 points, and sophomore Andrea Zalis drained two free throws with 2:43 left in the game to take a 42 point lead.
Zalis closed out the game with two good free throws to win, 86-50.
"We had great energy from the start," Coach Braden went on saying. "Krista (Armontrout) played tremendous on both ends of the floor." Armontrout went 4-5 from the foul line, pulled down five rebounds and had four steals.
The Blue Jays out-rebounded the Highlanders 41-26. Zalis went 7-7 from the foul line to total 20 points. She also pulled down 7 rebounds, added 3 assists, 3 steals and a block to the win. Junior Sadie Theroff went 7-9 from the field to put up 20 points.
The Blue Jays travel to Elsah, Illinois on Tuesday, January 6 to take on Principia College at 6:00 p.m.