Women's Basketball 2014-15 Season Preview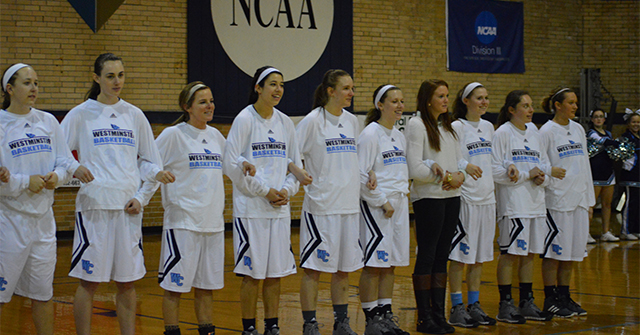 The Westminster women's basketball team was picked to finish 3rd this season in the St. Louis Intercollegiate Athletic Conference (SLIAC) Preseason Poll. The Westminster Blue Jays are led by Head Coach Tracey Braden.
Braden is entering into her eighth year as head coach of the Blue Jays and has led the Blue Jays to three SLIAC championships, six consecutive SLIAC Tournaments, two SLIAC Tournament championships and two NCAA Tournament appearances.
The Blue Jays return four of the five starters for the 2014-15 season after graduating four time All-Conference performer Leigh Ann Lutz. The four starters returning are senior Danielle Williams, juniors Mackenzie Haddox and Sadie Theroff, and sophomore Andrea Zalis.
Williams returns for her senior year after playing in 24 of the 25 games last season. She started in 11 games and averaged 3 rebounds per game. She led the team in blocks with 19, along with  Zalis. Williams pulled down 72 rebounds and contributed 73 points with a 42 field goal percentage.
Haddox began as a starter last season and dominated the court. She started in 18 of the 21 games she played in and put up 229 points on the season after going 75-for-184 from the field. Haddox led the team in steals with 35 and ranked second on the team with 65 assists, following Lutz with 67.
Theroff comes back for the 2014-15 season after starting in 22 of the 25 games last season. She was a force to be reckoned with from the three point line. She hit 50 three-pointers throughout the season and had a 41.7 percentage from behind the arc.
Zalis was named to the SLIAC All-Tournament team and led the league in three point percentage with a 41.9 percentage. She appeared in all 25 games and started in 11. Zalis led the Blue Jays with 139 rebounds, averaging 5.6 per game. She averaged 9.6 points per game, tallying 241 on the season. She also tied Williams with 19 blocks.
Senior Danielle Smulczenski and juniors Kasey Gatson and Tylere Goans also return to add experience to the court. Smulczenski started in seven of the 25 games she played in. She pulled down 51 rebounds and added 38 points. Gatson started 14 games and saw the court in all 25 games. She led the Blue Jays from the free throw line with a 85.7 percentage (24-28). She scored 175 points throughout the season, dished in 53 assists and had 24 steals. Goans saw the court in 24 games and averaged 3.6 points per game and 2.5 rebounds per game.
Three other returnees also saw the court last season, including sophomores Krista Armontrout, Bailey Mitchell and Payton Gruber.
The Blue Jays bring five freshman into the program, including Taylor Howard, Payton Beeler, Meleigha Caudel, Brittany Morris and Anna Houston.
The Blue Jays finished last season with a 11-7 conference record and a fifth place finish. They went on to their sixth consecutive conference tournament appearance, but fell to Spalding in the first round of the tournament, ending their season with a 13-12 record.
The Blue Jays will open the 2014-15 season on Saturday, November 15, at the Tip Off Tournament hosted by Elmhurst College. The first opponent of the season is Millikin University at 1:00 p.m. Westminster's first conference opponent is scheduled for Wednesday, December 3 at home versus Webster University at 6:00 p.m.