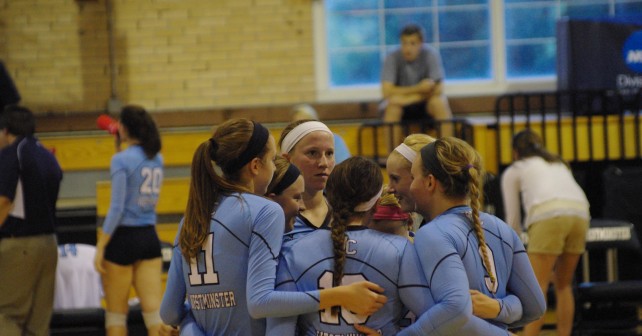 The Westminster volleyball team hosted a St. Louis Intercollegiate Athletic Conference (SLIAC) triangular on Saturday afternoon with Principia College and Blackburn College. The Westminster Blue Jays played Principia at 10:00 a.m. and Blackburn at 2:00 p.m. The Blue Jays defeated Principia in five sets, 3-2, and beat Blackburn 3-0. They are now 17-10 and 12-5 in the SLIAC.
The Blue Jays and the Principia Panthers, with the conference standings on the line, battled for the match win. Freshman Mallory Hubbard went on a 5-0 run to put the Blue Jays up 22-18 in set one. Two kills by freshman Riley Lawrence and a kill by Amanda Kiso ended the set with a 25-21 win. Set two was a back-and-forth battle until the end. A kill by Kiso and a ball handling error by Principia gave the Blue Jays the 31-29 set two win. The Blue Jays held the lead throughout set three, but Principia battled to stay in the match. The Panthers pulled out the 25-23 win, sending the match into another set. A 9-0 run by the Panthers aided in their 25-16 set four win, tying the match at 2-2. Set five was neck-and-neck until the Blue Jays went on a 3-0 run, taking the 13-11 lead. A kill by Hubbard ended the match with a Blue Jay 15-13 set five win.
Today I could not be more proud of how our girls worked," said Head Coach Curtis Madson. "Earlier in the year we found ourselves in the same spot against a really good Principia team, up 2-0 then tied at 2-2.  The girls have really showed how they have grown and matured over the year to come back from a big loss in set four to close out the set."
The Blue Jays then went on to defeat Blackburn in three sets (25-7, 25-17, 25-9).
"Today was great team wins. I think we can build momentum into Wednesday and hopefully through the conference tournament," said Coach Madson.
Lawrence finished the two matches with 29 kills, hitting .667 percent in the second match. Freshman setter Kayla Reeg had 89 assists on the day and sophomore libero Caroline Will had 27 digs.
"Today was not all about the big offensive players, our role players stepped up huge today, Brianna Becker had a great match as a DS, the defensive player, especially in the fifth set (against Principia); it was huge".
The Blue Jays will host Webster University on Wednesday to complete their regular season play. The match will start at 7:00 p.m.