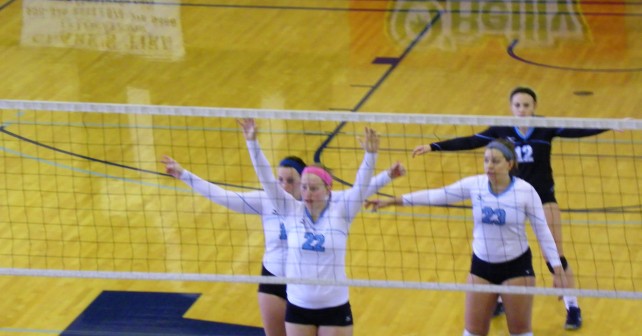 The Westminster volleyball team swept Eureka College in 3 sets on Homecoming Saturday. The Blue Jays improved their St. Louis Intercollegiate Athletic Conference (SLIAC) record to 7-4 and their overall record to 11-9.
The Blue Jays may have swept Eureka in 3, but sets one and two were not an easy feat. Set one stayed neck-to-neck, heading into a Eureka timeout; the Blue Jays were up by only one, 15-14. The Blue Jays came out of the timeout and pulled an 10-4 run to end the set with a 25-18 win. Set two served as the deciding game for Eureka and Westminster. The set was tied 10-10 before the Blue Jays took hold of the lead, but Eureka was never far behind, tying the game every few points. With a 23-22 Blue Jay lead, Eureka tied up the set again. A kill by senior Caroline Abraham ended set two with a Blue Jay 28-26 win. The Blue Jays kept the momentum rolling and caught fire in set three. They quickly took a 17-7 lead and finished out the match with the set three 25-15 win.
Freshman Amanda Kiso hit 75 percent for the day with 12 kills, no errors and 16 attempts. She led the Blue Jays with two solo blocks and two block assists. Freshman setter Kayla Reeg finished the match with 37 assists. Reeg and sophomore Caroline Will shared the lead with 12 digs each. Will and freshman Brianna Becker finished the match with three service aces each.
Following the match, the Westminster volleyball program held inductions to the new Clubs.  The program inducted the members into the four elite clubs (1,000 Kill Club, 1,500 Dig Club, 2,500 Assist Club and 100 Ace Club) for their milestones completed on the Westminster volleyball team.
The Blue Jays host Greenville (19-4; SLIAC 12-0), the lone SLIAC team to be undefeated, on Tuesday, October 22, at 7:00 p.m. The Blue Jays will use this match to recognize the faculty and staff that have made an impact on the volleyball players.