Volleyball Completes Sweep Over Fontbonne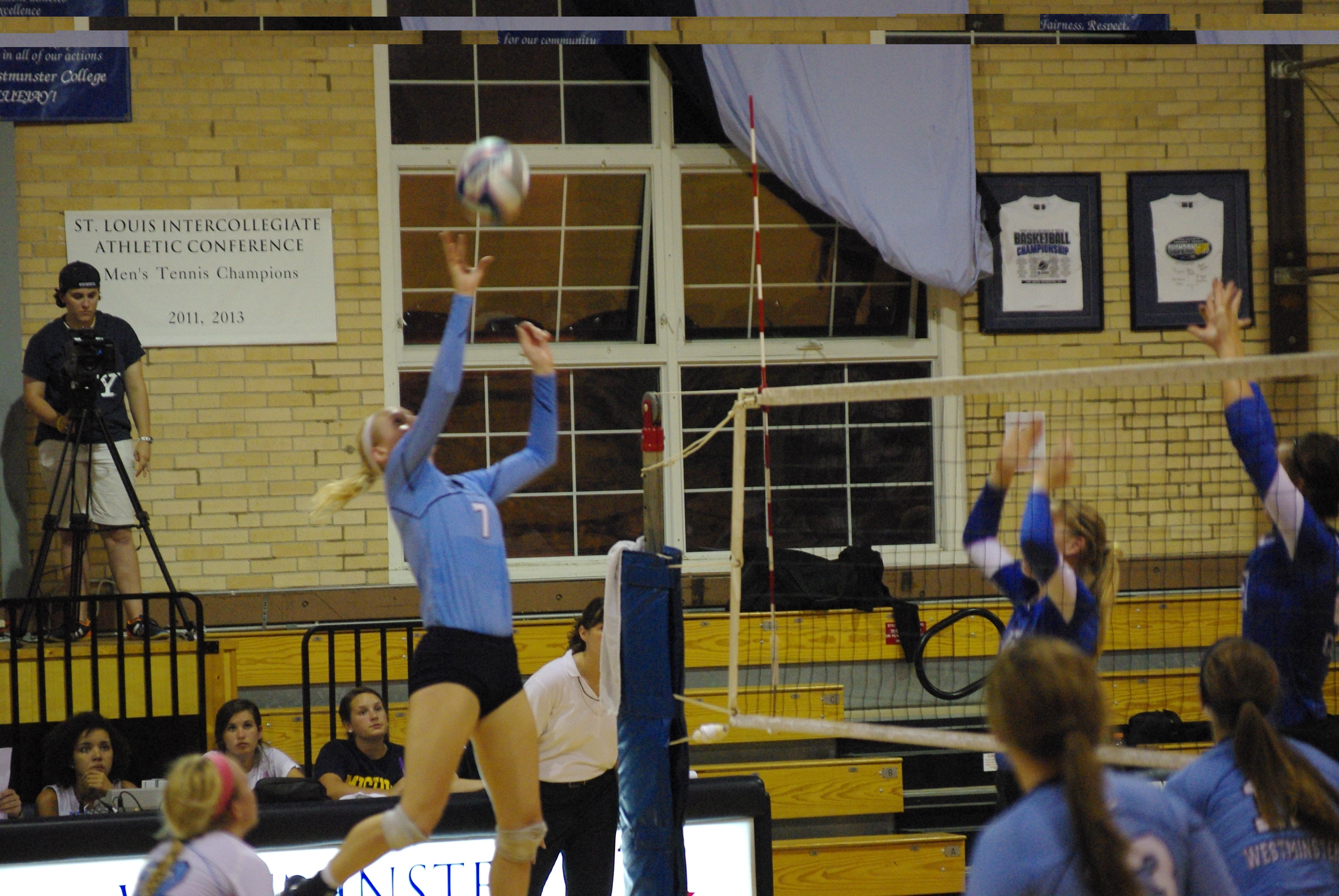 The Westminster volleyball team completed a 3-0 sweep over the Fontbonne University Griffins Tuesday evening. The Blue Jays are now 10-5 in St. Louis Intercollegiate Athletic Conference (SLIAC) play and are tied for third in the conference.
The Blue Jays went on a 6-1 run to put themselves up 10-5 in set one. They followed that run with an 8-0 run to take the 21-10 lead, and a kill by senior Caroline Abraham finished the set, 25-12.
Set two was neck-and-neck and a kill by freshman Brianna Becker tied up the set for the sixth time at 11-11. From there, the Blue Jays went on a 14-2 run and freshman Riley Lawrence took control, hitting six kills in the remainder of the set to win 25-13.
The Griffins fought hard to steal set three and stay alive, but the Blue Jays held strong. A Blue Jay timeout put a stop to the Griffin's 3-0 run. The Griffins held the 23-22 lead, but the Blue Jays came out of the timeout with a kill from freshman Amanda Kiso, tying the game at 23-23. A kill from freshman Mallory Hubbard took the 24-23 lead, and a kill by sophomore Lexi Collier ended set three with a 25-23 win.
The Blue Jays finished the night with a .362 hitting percentage, with two players hitting over .500. "Over our past three matches we have really cut back on our errors," commented Head Coach Curtis Madson. The Blue Jays finished the night with 12 errors with their 94 attempts. "That has been our biggest issue for most if the year; giving points away. If we continue to play this clean and disciplined, we will be okay going forward."
Lawrence led the Blue Jays with 14 kills on 22 attempts on the night (.500 hitting percentage). Collier completed the night with 8 kills and no errors on 14 attempts (.571 hitting percentage).
Freshman setter Kayla Reeg has 36 assists and led the Blue Jays with 12 digs.
Kiso was a strong component at the net for the Blue Jays. She finished with 2 block solos and three block assists. Collier and Reeg grabbed three block assists each.
The Blue Jays will host a Tri-Match Saturday, November 2. They will face Principia College at 10:00 a.m. and Blackburn College at 2:00 p.m. The Blue Jays will honor the two seniors during the Blackburn match.