Volleyball Sweeps MacMurray, 3-0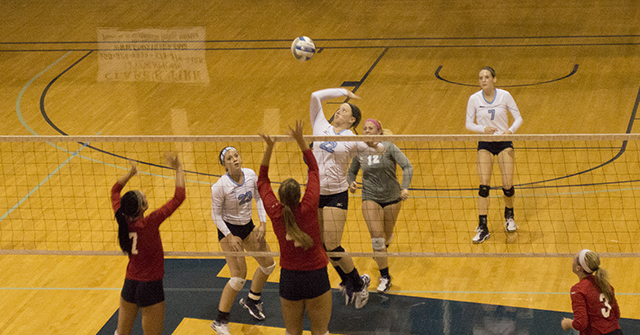 Westminster volleyball swept the MacMurray Highlanders 3-0 on Tuesday evening to improve to 6-1 in conference play. The Westminster Blue Jays also brought their season record back to .500 (8-8).
The Blue Jays had a slow start in set one, but a kill by sophomore Gabby LaRose jump-started a 6-0 Blue Jay run to take the 11-5 lead. They continued to hold the lead, and with the score of 18-11, sophomore Amanda Kiso put down a kill to bring the set to 19-11. The Blue Jays then went on a 5-0 run to bring their lead to 24-11. A kill by the Highlanders dented the Blue Jays' run, but another kill by LaRose ended the set, 25-12.
MacMurray kept pace with the Blue Jays in set two, but a kill by LaRose and another by sophomore Riley Lawrence put the Blue Jays up 12-8. MacMurray answered back with a 4-0 run to tie the game, but kills by Kiso and freshman Hannah Marshall stopped the Highlanders' run. An ace by Lawrence forced the Highlanders to call a timeout with the score 15-12. The back-and-forth set had the Blue Jays down 24-23, but kills by Lawrence and Marshall put the Blue Jays up 25-24. An attack error by the Highlanders ended the close game at 26-24, Westminster.
The momentum rolled over into set three, but a kill by LaRose set fire to the Blue Jays. A kill by junior Lexi Collier, followed by two aces by LaRose gave the Blue Jays the 9-6 lead, bringing the Highlanders to call a timeout. MacMurray brought themselves back into the set, but a kill by Collier brought the serve to LaRose again with the score tied at 18. After another ace by LaRose, MacMurray called a timeout. The Blue Jays came out of the timeout and hit a 6-1 run. The Blue Jays ended set three, 25-19, with a kill by Lawrence.
Collier and Kiso hit .474 and .467, respectively. LaRose had 11 kills on the night with four service aces. Sophomore setter Kayla Reeg finished the night with 38 assists and 11 digs. This week's conference player of the week, libero Caroline Will, led the Blue Jays in digs with 13.
Westminster travels to Eureka, IL for the weekend. They face Eureka College on Friday at 7:00 p.m., followed by a conference tri at Eureka on Saturday.