Volleyball Wins 8th Straight Match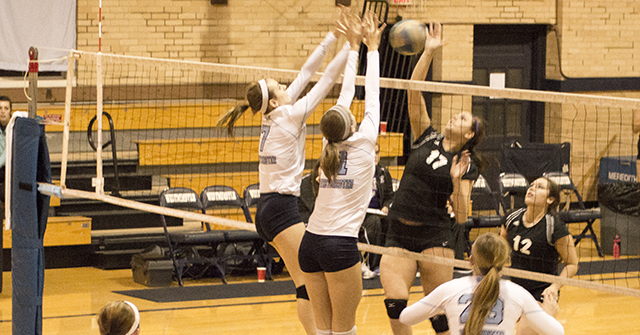 The Westminster volleyball team won their eighth straight match on Tuesday evening with a 3-0 sweep over Iowa Wesleyan. The Blue Jays improve to 15-8 on the season and 13-1 in conference play.
The Iowa Wesleyan Tigers pulled the early lead in set one. A kill by sophomore Riley Lawrence gave the Blue Jays the 12-11 lead. A block by junior Lexi Collier and sophomore Kayla Reeg, followed by an ace by freshman Hannah Marshall forced the Tigers to call a timeout. Coming out of the time out, Collier put down a kill to take the 15-11 lead. Three bad plays by the Blue Jays put the Tigers back in the set, 15-14. After an ace by Reeg to put the score at 21-17, the Tigers called their second timeout of the set. A kill by Marshall ended the set, 25-21.
Iowa Wesleyan held the early lead in set two, but a five point rally by the Blue Jays gave them the 15-10 lead. A block by Collier and a kill by Marshall gave the Blue Jays a 22-14 lead, but Iowa Wesleyan came back to bring the set to 24-19. On set point, sophomore Mallory Hubbard put down a kill off Reeg's assist to win 25-19.
Two kills by sophomore Gabby LaRose and one by Lawrence started set three, but Iowa Wesleyan brought themselves back into the set. The set stayed close until a kill by Collier and one by Lawrence put the Blue Jays' lead to 20-17. Collier put down a kill coming out of the Tigers' timeout, giving the Blue Jays the 21-17 lead. A Tigers' attack error gave Westminster match point, but a kill by the Tigers stopped it. Lawrence hit a hard ball down to give the Blue Jays the set and match point, 25-20.
The Blue Jays hit .274 on the night. Sophomore Amanda Kiso hit .647 with 11 kills on 17 attempts. Collier hit .533 with 9 kills, and Lawrence led the Blue Jays with 14 kills.
Reeg had 45 assists on the night and 12 digs. Junior libero Caroline Will led the Blue Jay defense with 17 digs, and Lawrence and Collier both registered three block assists.
The Blue Jays look to continue their 8-game streak on Friday during Homecoming Weekend with a home match versus Spalding University at 7:00 p.m.