Men's Tennis Drops Two At Grinnell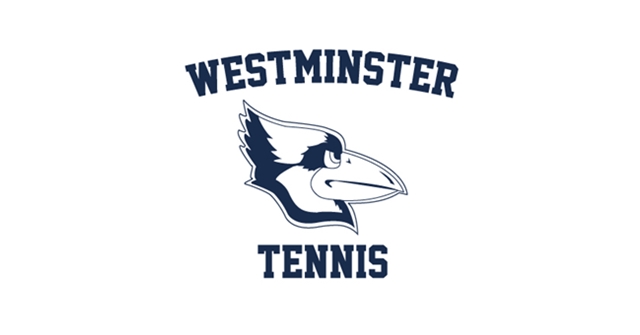 The Westminster men's tennis team opened their spring season with matches against Grinnell College and Grand View University Saturday, March 1. The Westminster Blue Jays dropped both matches. falling to Grinnell 9-0 and to Grand View 6-3.
The Blue Jays will travel to Kansas City, Mo. on Saturday, March 15, to face Nebraska Wesleyan.
#15 Grinnell College 9, Westminster 0
Mar 1, 2014 at Grinnell, Iowa
Singles competition
1. Elliott Czarnecki (GCM) def. Tyler Wollmershauser (WCMT) 6-1, 6-0
2. Tommy Pitcher (GCM) def. Alec Belden (WCMT) 6-4, 6-3
3. Charlie Wilhelm (GCM) def. Nathan Connell (WCMT) 6-0, 6-0
4. Samuel Catanzaro (GCM) def. Kyle Collins (WCMT) 6-2, 4-6, 10-4
5. Caleb Kumar (GCM) def. Reese Hicks (WCMT) 6-1, 6-0
6. Will Hamilton (GCM) def. Kody Renner (WCMT) 6-1, 6-0
Doubles competition
1. Elliott Czarnecki/Tommy Pitcher (GCM) def. Tyler Wollmershauser/Alec Belden (WCMT) 8-4
2. Samuel Catanzaro/Will Hamilton (GCM) def. Nathan Connell/Kyle Collins (WCMT) 8-5
3. Charlie Wilhelm/Beau Bressler (GCM) def. Justin Wollmershause/Reese Hicks (WCMT) 8-1
Grand View University 6, Westminster 3
Mar 1, 2014 at Grinnell, Iowa
Singles competition
1. Tyler Wollmershauser (WCMT) def. Anthony Forcucci (GVUM) 6-3, 3-6, 10-8
2. Jordan Feige (GVUM) def. Alec Belden (WCMT) 7-6, 6-2
3. Tyler Johnson (GVUM) def. Nathan Connell (WCMT) 6-0, 6-3
4. Kyle Collins (WCMT) def. Ryan Gilbert (GVUM) 6-4, 6-1
5. Phil Kruzan, Jr. (GVUM) def. Reese Hicks (WCMT) 6-1, 6-0
6. Luke Norris (GVUM) def. Kody Renner (WCMT) 6-2, 6-0
Doubles competition
1. Anthony Forcucci/Jordan Feige (GVUM) def. Tyler Wollmershauser/Alec Belden (WCMT) 8-2
2. Nathan Connell/Kyle Collins (WCMT) def. Ryan Gilbert/Tyler Johnson (GVUM) 9-8
3. Phil Kruzan, Jr./Diego Novoa (GVUM) def. Justin Wollmershause/Harrison Harter (WCMT) 8-5