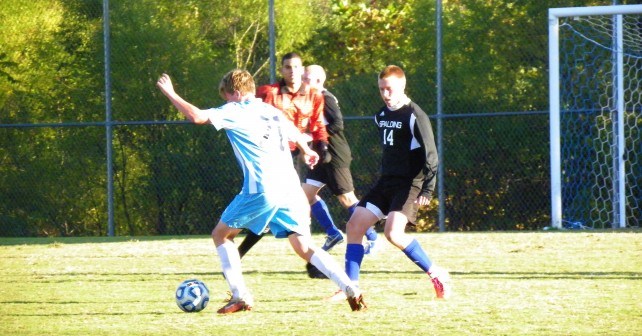 The Westminster men's soccer team extended their St. Louis Intercollegiate Athletic Conference (SLIAC) streak to 5-0 with the 1-0 shutout win over Spalding University Saturday evening. The Blue Jays moved into first place in the SLIAC after the win and is the only team left with a perfect conference record (6-7-1; SLIAC 5-0).
The Blue Jays set the Westminster record for the best SLIAC start to a season with the 5-0 record, surpassing the 2002 4-0 SLIAC start.
After a scoreless first half, the teams headed into the second ready for blood. The Blue Jays took four shots before a foul by Spalding placed the ball near the corner of the field. Senior Andrew Presnell headed the ball off senior Zach Moore's free kick. The ball was deflected and junior Jacob Appelbaum was able to place the ball in the net with just 8:06 left in the game. The Blue Jays did not allow Spalding to take another shot, ending the game with the 1-0 shutout.
Freshman goalkeeper Raul Belman Romero improves his record to 6-4 after the 1-0 shutout. He saved two shots.
The Blue Jays look to extend their conference streak on Wednesday, October 23, as they take on Iowa Wesleyan in Mount Pleasant, Iowa at 1:00 p.m.